Bronzeville Apartment Living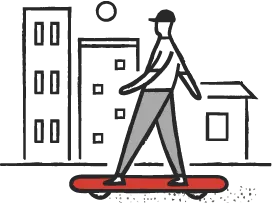 Neighborhood Vibe
Bronzeville apartments are centered on the pulse of a thriving community with a storied history. Proud local businesses are found throughout the neighborhood, while the convention scene at nearby McCormick Place is always in motion.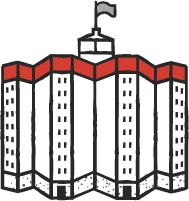 Heart of the Neighborhood
Bronzeville's soul is in its rich past. This was once the business and entertainment hub of Chicago. Duke Ellington, Louis Armstrong, Ella Fitzgerald, Billie Holiday, Lena Horne, and Nat "King" Cole performed at the famous Regal Theater at 47th and King Drive.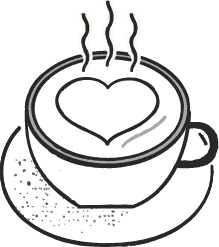 What We Love Most
The southern cooking at Pearl's Place is known far and wide throughout the Chicago area, and the restaurant has been a community hub for decades.

Best Way to Get Around
Bronzeville apartments are accessible by Lake Shore Drive or I-90 and the CTA Red or Green lines. There's also the Metra RI for getting around other parts of Chicago. 
Find Bronzeville Apartments
Apartments for rent in Bronzeville
Around the Neighborhood
General
If you're seeking Bronzeville apartments for rent, you'd be hard-pressed to find a downtown Chicago neighborhood with more history. This neighborhood presents apartment renters with a good blend of affordable apartments in a desirable location close to downtown Chicago with cheap apartments. Bronzeville apartments come in a wide assortment of housing types. The neighborhood is full of vintage two-flats, classic single-family houses preserved from the late 19th century, converted loft apartments in former warehouses or factories, and mid-century high-rise apartment buildings that offer spectacular Lake Michigan views.
The "Black Metropolis" of the early 20th century was the destination for thousands of African-Americans during the Great Migration. Today, apartments effectively mix the old and the new, making them prime destinations for affordable apartment rental options close to the lakefront.
Bronzeville Chicago is home to the Illinois Institute of Technology and the Illinois College of Optometry; the population is a mix of students, longtime residents, and newcomers. Yes, there's the standard assortment of chain restaurants, but there's also an excellent array of mom-and-pop options. And what the bars and clubs lack in quantity, they make up for in quality. Bronzeville is also near Guaranteed Rate Field, the home of the Chicago White Sox.

Commuting is easy from Bronzeville apartments with the 'L' Green line trains servicing the neighborhood from the Indian Street Station, 35th-Bronzeville-IIT Station, 47th Street Station, and the 51st Street Station. The Red Line CTA train is accessible from Sox-35th Street and 47th Street stations. In addition, several CTA bus routes are available along King Drive, S Michigan Ave, S Indiana Ave, and State St., which include #3, #4, #15, and #29. Apartment renters in Bronzeville, Chicago, can easily navigate this neighborhood as it fits in between Lake Shore Drive and the western boundary of the I-90 expressway. The Metra RI train is accessible from the 35th Street "Lou" Jones/Bronzeville Station.
Bronzeville apartments tend to be more extensive floor plans and gracious room sizes. There are only a limited amount of studio apartments for rent in Bronzeville with much more supply of 1 bedroom and two-bedroom apartments. The large three-bedroom and four-bedroom apartments can be found in two- and three-flat buildings, single-family homes that have been reconfigured into apartments, and new apartment buildings. For the proximity to the Chicago Loop, Hyde Park, and South Loop, the Bronzeville apartments are inexpensive and an excellent option for downtown apartments with a short commute to the Chicago Loop.
This Chicago neighborhood is home to many beautiful parks and a short walk from the Chicago Lakefront Trail, 31st Street Beach, Burnham Park, Oakwood Beach, and Morgan Point. Park located here includes Williams Park Fieldhouse, Dunbar Park, Lake Meadows Park, Lake Meadows Park, Ellis Park, Anderson Park, Mandrake Park, Sumac Park, Metcalfe Park, Stateway Gardens Park, Hadiya Pendleton Park, Armstrong Park, Birch Park, Honeysuckle Playlot Park, Robert Taylor Park, and Houston Playground Park.
Popular Apartment Buildings in Bronzeville
Paul G Stewart Center Apartments
Find Bronzeville Apartments by Size
Refine your search for Bronzeville apartments to find your perfect apartment based on size and budget by searching studio, one-bedroom, two-bedroom, three-bedroom, & 4 bedroom apartments for rent.
Schools in Bronzeville Chicago
Air Force Academy High School
Mayo Elementary School
Garfield Alternative High School
Pershing Magnet School
De LaSalle Institute
Perspectives/IIT Math and Science Academy
Helen McCorkle Elementary School
Howalton School
Dunbar Vocational Career Academy
Ludwig Van Beethoven Elementary School
Bronzeville Scholastic Institute High School
John B Drake Elementary School
McKinley lakeside Leadership Academy
Daniel Hale Williams Prep School
Farren School
Wendell Phillips Academy High School
Washburn Trade School
Bronzeville Classical Elementary School
Fuller Elementary School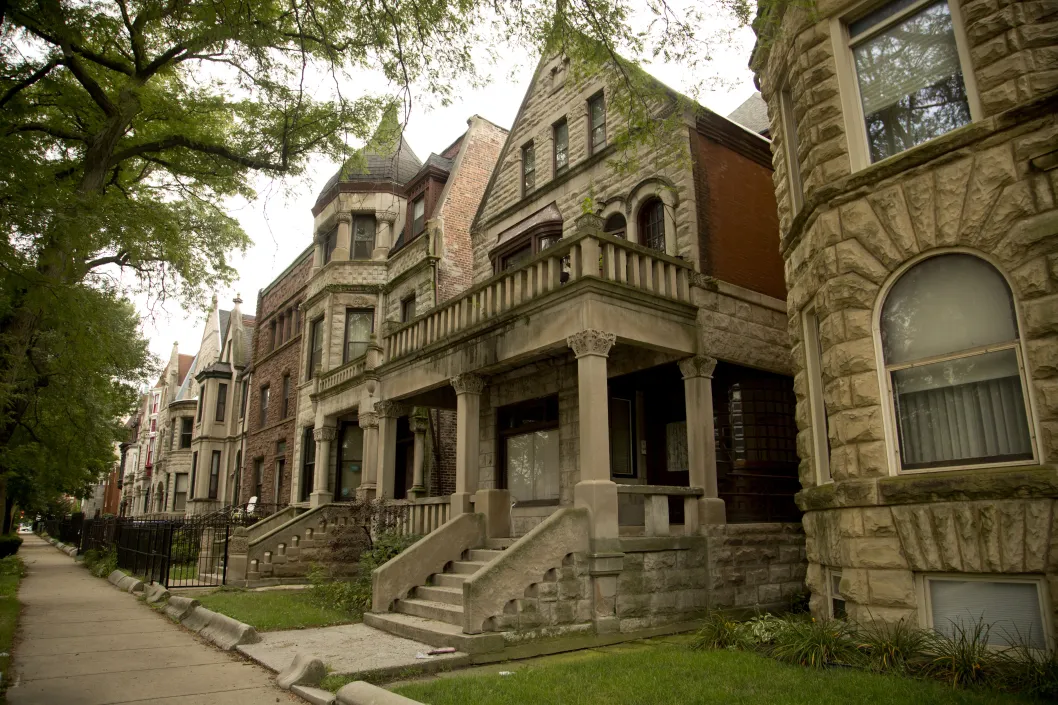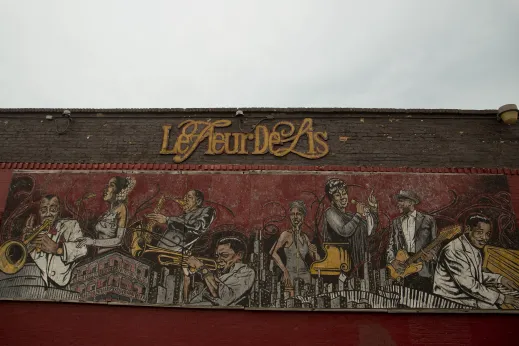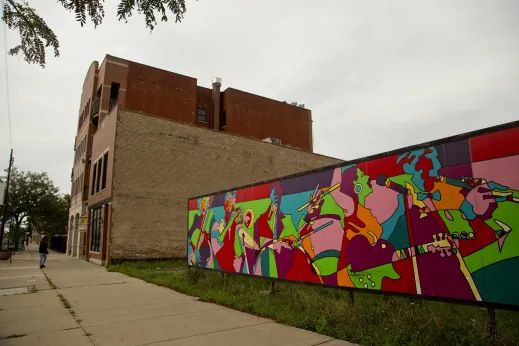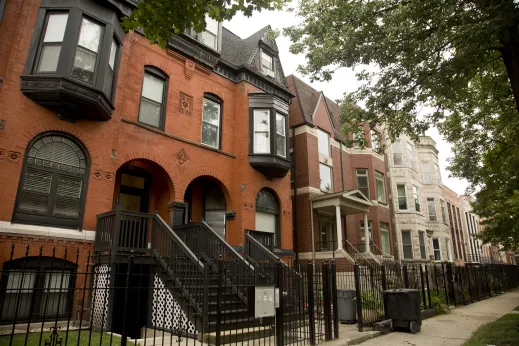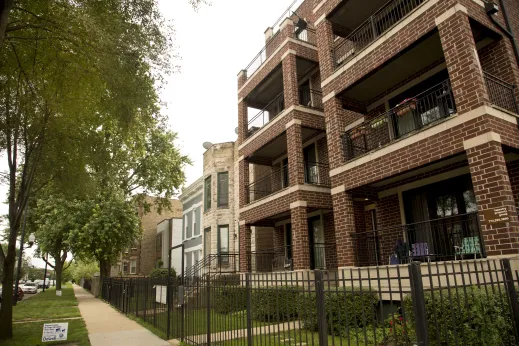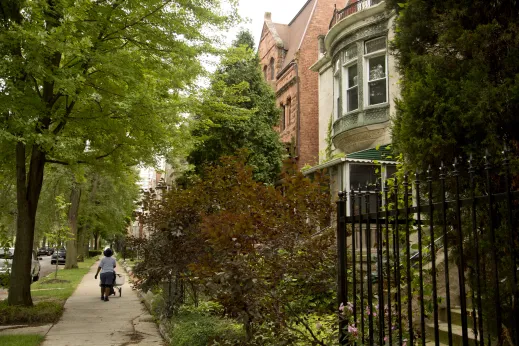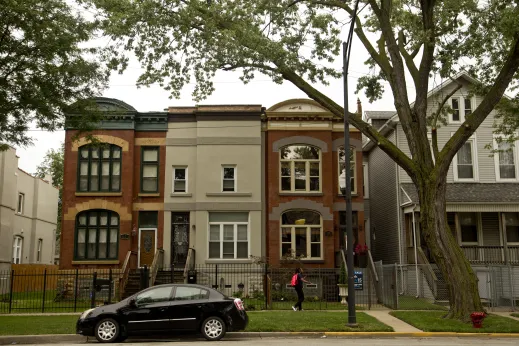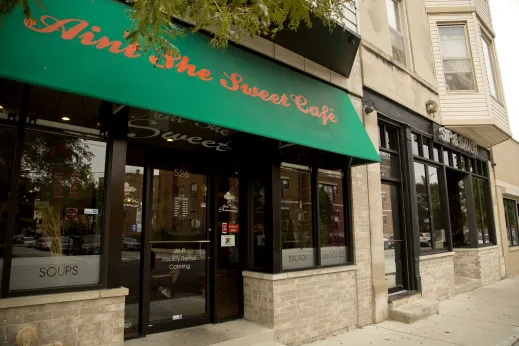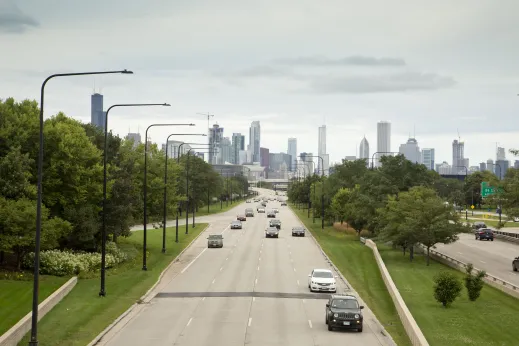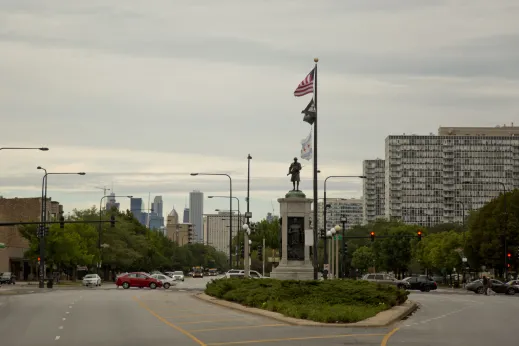 History in Bronzeville Chicago
Bronzeville's soul is in its rich past. Duke Ellington, Louis Armstrong, Ella Fitzgerald, Billie Holiday, Lena Horne, and Nat "King" Cole performed at the famous Regal Theater at 47th and King Drive. This was once the business and entertainment hub —a mini Times Square. Other clubs in the vicinity included the Parkway Ballroom and Gerri's Palm Tavern, where Richard Wright, Langston Hughes, Muddy Waters, Quincy Jones, Miles Davis, and James Brown used to hang. Amongst the traditional greystones, apartment buildings, and historic homes (Ida B. Wells' former home is here), numerous statues and monuments—like the Bronzeville Walk of Fame—remind residents of what came before.
Find Apartments in Nearby Neighborhoods
Apartment Buildings in Bronzeville
New Bronzeville Chicago Apartments for Rent