Ravenswood Apartment Living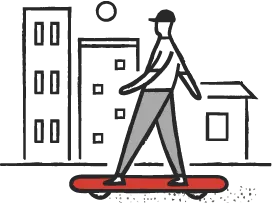 Neighborhood Vibe
Loft offices, art, breweries, railroad tracks, and even a few old-fashioned cobblestone streets define the feeling of renting an apartment in Ravenswood, Chicago.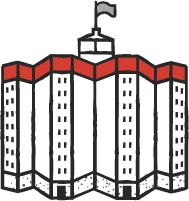 Heart of the Neighborhood
LILLSTREET Art Center is a sprawling marketplace for handmade crafts and exhibits by visiting artists, and they offer art classes near the heart of Ravenswood. Various furniture shops, art galleries, and brewpubs populate the brick storefronts along Ravenswood Avenue. Chicagoans should stop at Architectural Artifacts, a veritable labyrinth of reclaimed building materials and salvaged goods that is as close to a time machine as you'll find in Chicago.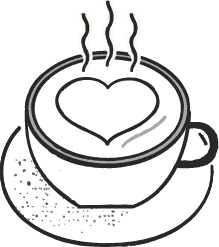 What We Love Most
Ravenswood was initially planned as a suburb of Chicago. Electric streetcar routes and the completion of the Ravenswood elevated train line (the CTA Brown line today) connected the community to the city, and Chicago eventually annexed it. The elevated Brown Line and the UP-N Metra parallel train tracks create the Ravenswood corridor. Every autumn, Chicagoans can tour the eclectic offerings of the corridor's art galleries on the Ravenswood Art Walk.

Best Way to Get Around
Divvy bike station at Berteau and Ravenswood, no. 50 Damen bus, 'L' Brown line, and UP-N Metra are all solid transportation choices for Ravenswood apartment renters.
Find Ravenswood Apartments
Apartments for rent in Ravenswood
Around the Neighborhood
General
Ravenswood Chicago has experienced a renaissance over the past decade and has become the go-to area for people looking to rent an apartment on the north side of Chicago. The spaciousness, the sidewalks, the foliage, and the serenity combine to make Ravenswood apartments a pleasant and worthy far north side destination. Ravenswood apartments tend to have more extensive floor plans with only a limited number of studio apartments for rent. The majority of Ravenswood Chicago apartments tend to be one-bedroom, two-bedroom, and three-bedroom apartments, with a limited amount of 4 bedroom rentals found mostly as beautiful single-family houses for rent. This pet-friendly neighborhood always has a robust stock of dog-friendly apartments for rent. Ravenswood apartments for rent are primarily vintage apartments found in bungalows, new construction buildings, condo buildings, coach houses, and courtyard-style apartment buildings. Many single-family homes for rent in Ravenswood, Chicago, are a century old. However, new construction rentals have been popping up more and more, and a considerable number of vintage homes have been converted into two and three-flat apartment buildings.
As a bonus, this neighborhood is unusually well-served by CTA 'L' stations, the Metra commuter train stops in Ravenswood, and buses abound. The Brown Line can be accessed from the Western and Damen CTA train stations. The Metra UP-N train can be found just east at the Ravenswood Metra station. CTA bus routes available in Ravenswood include #11, #49, #50, #81, #92.
There are several small parks in Ravenswood and two expansive parks on its fringes, Winnemac Park and Welles Park. Winnemac Park has nature trails and a prairie garden, and both parks have baseball diamonds and tennis courts. Welles Park has a public indoor swimming pool and gymnasium. Many apartment renters in Ravenswood will look in the adjacent neighborhood for Ravenswood Manor Apartments.
The Ravenswood neighborhood is adjacent to Lincoln Square affluent with restaurants, shopping options, and apartments. The art galleries, retail shops, and busy restaurants define the look and feel of Ravenswood. However, many independently owned shops and ethnic restaurants can be found within Ravenswood's boundaries.
History and literary buffs will be interested to know that Carl Sandburg, Chicago's poet laureate, lived in Ravenswood at 4646 N Hermitage Ave.
Popular Ravenswood Apartment Buildings
Wilson & Winchester Apartments
Search Ravenswood Apartments by Size
Refine your search for Ravenswood apartments to find your perfect apartment based on size and budget by searching studio, one-bedroom, two-bedroom, three-bedroom, & 4 bedroom apartments for rent.
Schools in Ravenswood Chicago
James McPherson Public School
Amundsen High School
Montessori Gifted Prep School
Ravenswood Elementary School
Senn High School
Ravenswood Montessori School
Lyman Budlong Public School
Lycee Francais de Chicago
Saint Demetrios Greek Orthodox School
St Matthias School
Waters School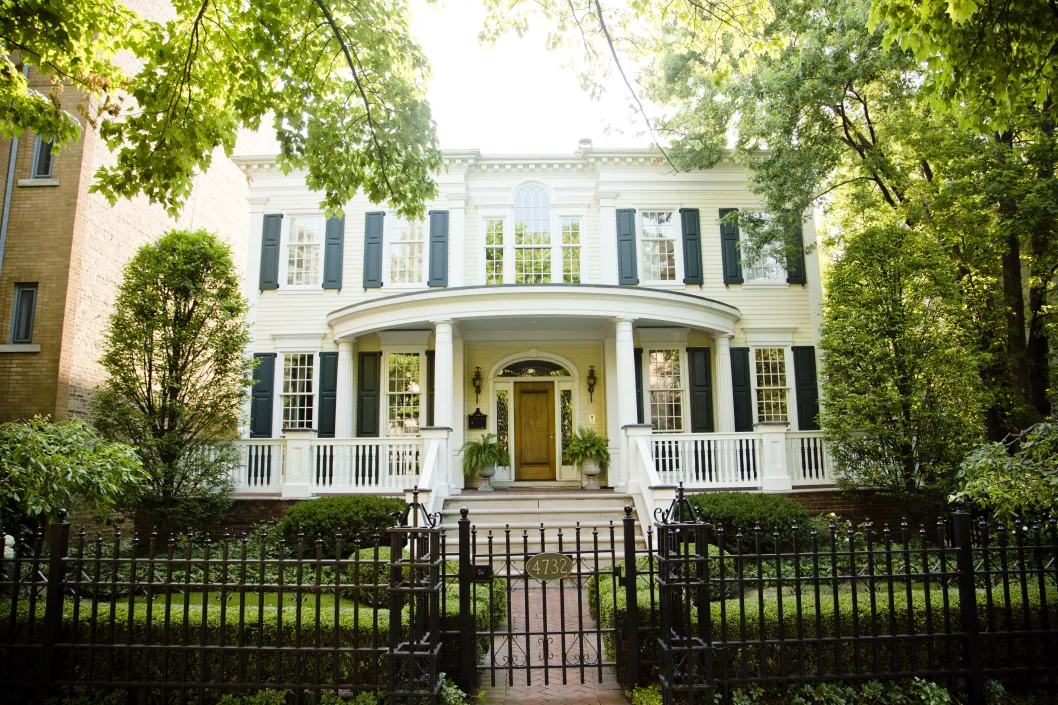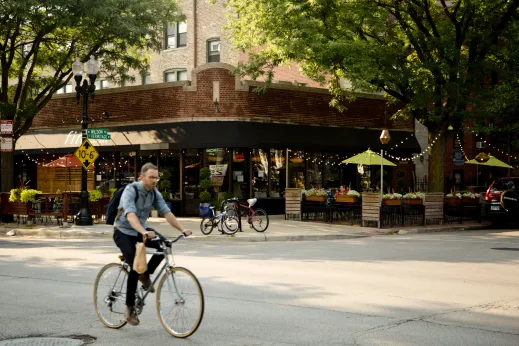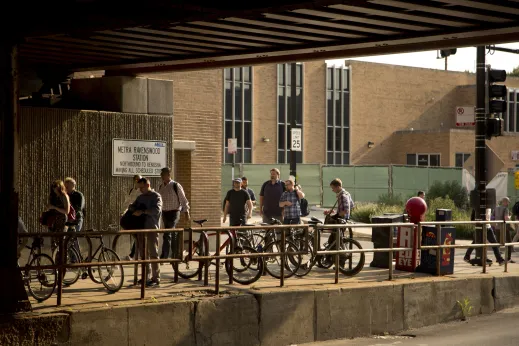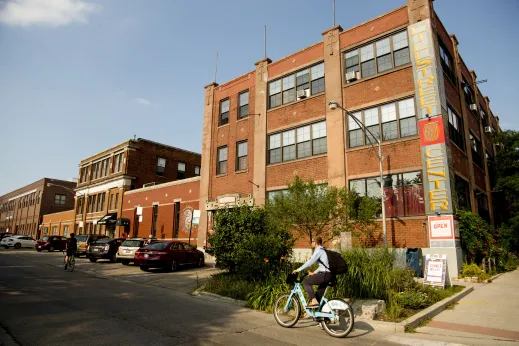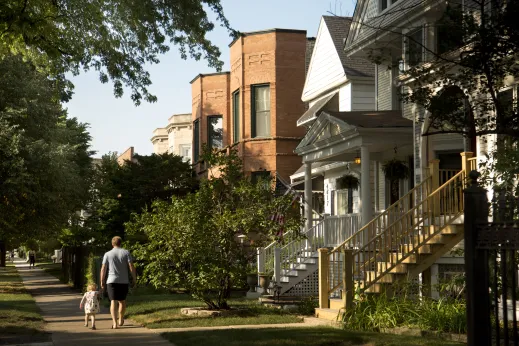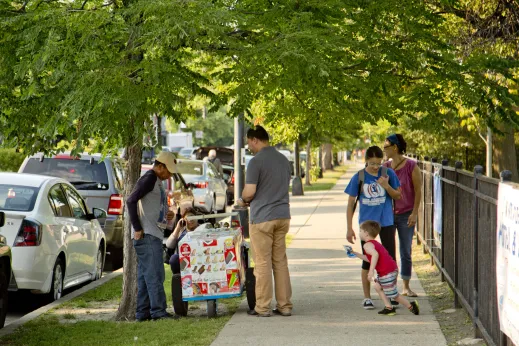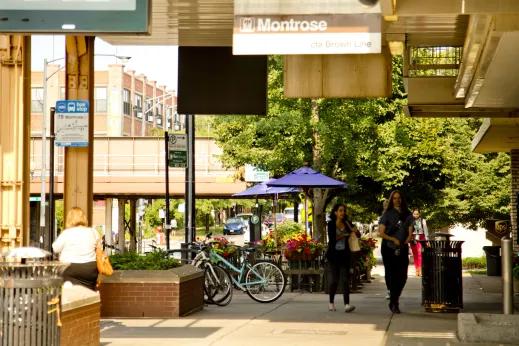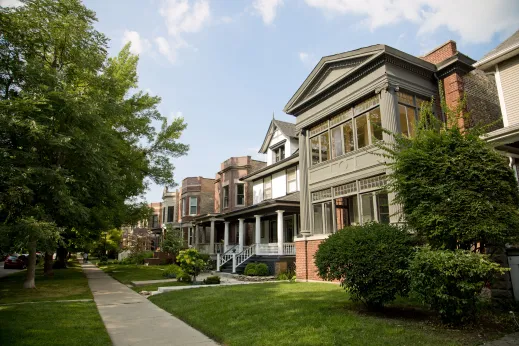 Dining in Ravenswood
Fountainhead for above-average pub food, some of it grown in their community garden and a heckuva rooftop in the warmer months; Band of Bohemia is the only brewpub with a Michelin Star rating; Glen's Diner for casual seafood where the daily specials are written on the giant chalkboard.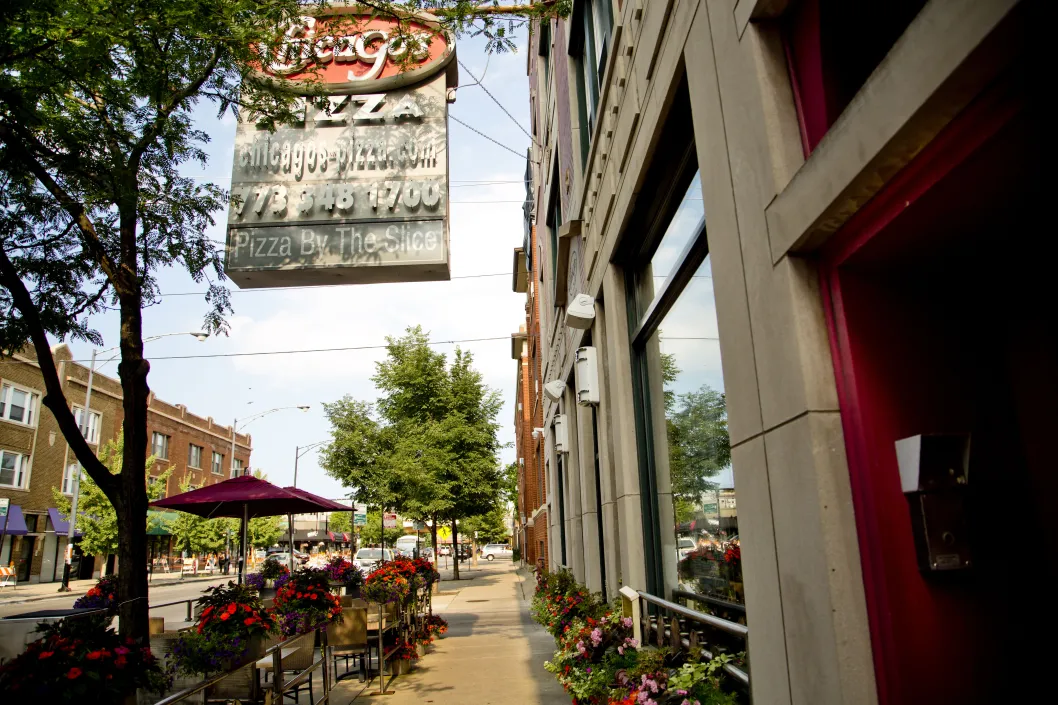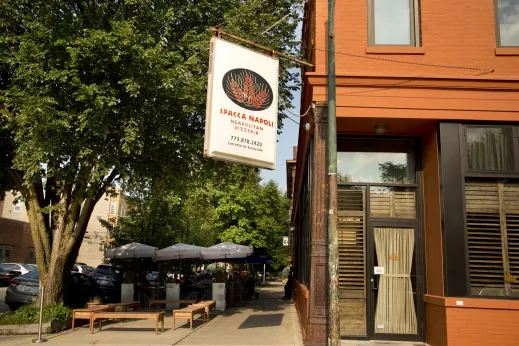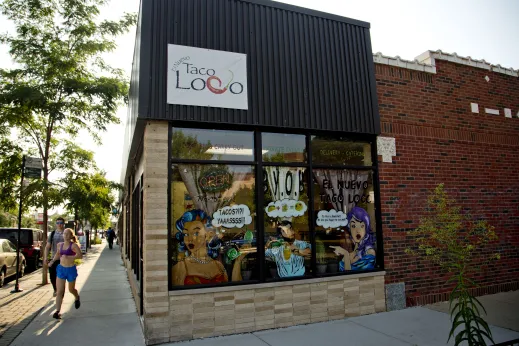 Nightlife in Ravenswood
Bounce along "brewer's row" on the Ravenswood corridor, with stops at Band of Bohemia, Dovetail, and Begyle for a sampling of Ravenswood's unusually high profile in artisanal beer shops.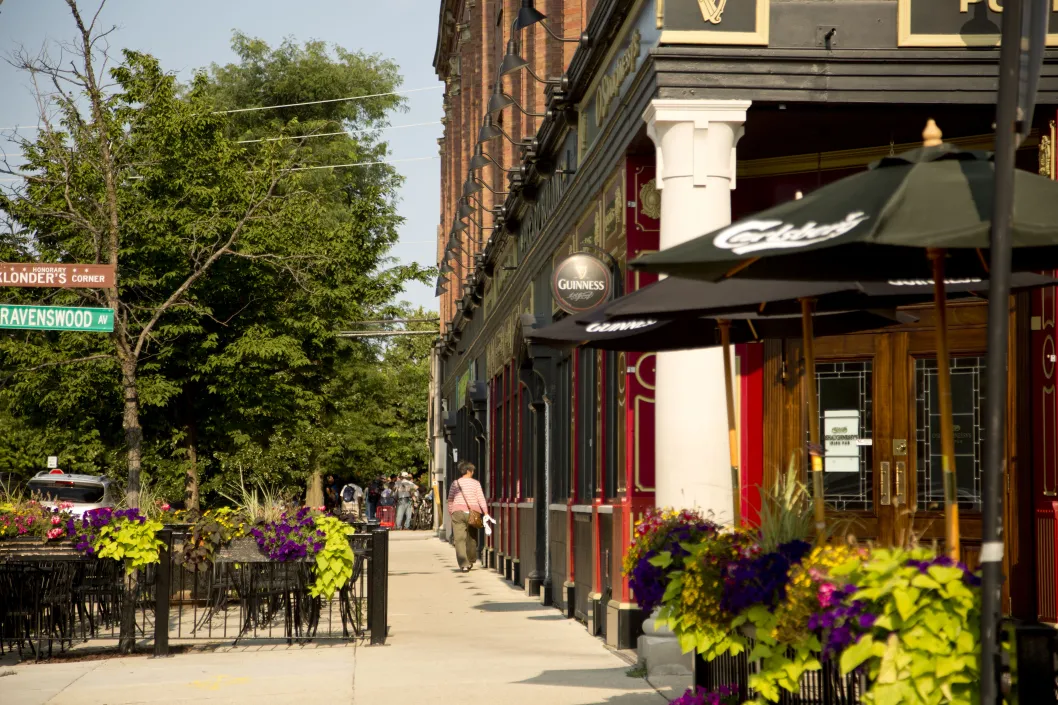 Coffee in Ravenswood
Spoken is a neighborhood gem that locals love for a quick breakfast bite or cup of joe before hopping on the nearby train at Montrose 'L' station. Julius Meinl on Ravenswood offers wholesale beans and Viennese-style pastries.
History in Ravenswood
Home of the Vikings, Amundsen High School, is situated among many Ravenswood apartments and houses. The school is named after Roald Amundsen, the Norwegian explorer who led the first expedition to reach the South Pole. The school initially opened on November 10, 1930, as a junior high at 5110 N Damen Avenue but became a high school on July 26, 1933. Today, Amundsen's total enrollment is around 1,600 students. It is a Chicago Public School known for a non-selective International Baccalaureate program. Its notable alumni include nine-time Tony Award-winning theatrical director and choreographer Bob Fosse, who won an Academy Award for Best Director for the 1972 film "Cabaret." Dan Jorndt, former President and CEO of Walgreen's, attended Amundsen. Hollywood writer, director, and producer Michael Mann, who directed "Heat," "Ali," "The Aviator," "The Insider," and "Public Enemies," is an alumnus, and actor Roy Thinnes, best known for his work in the ABC television series "The Invaders," attended school here too.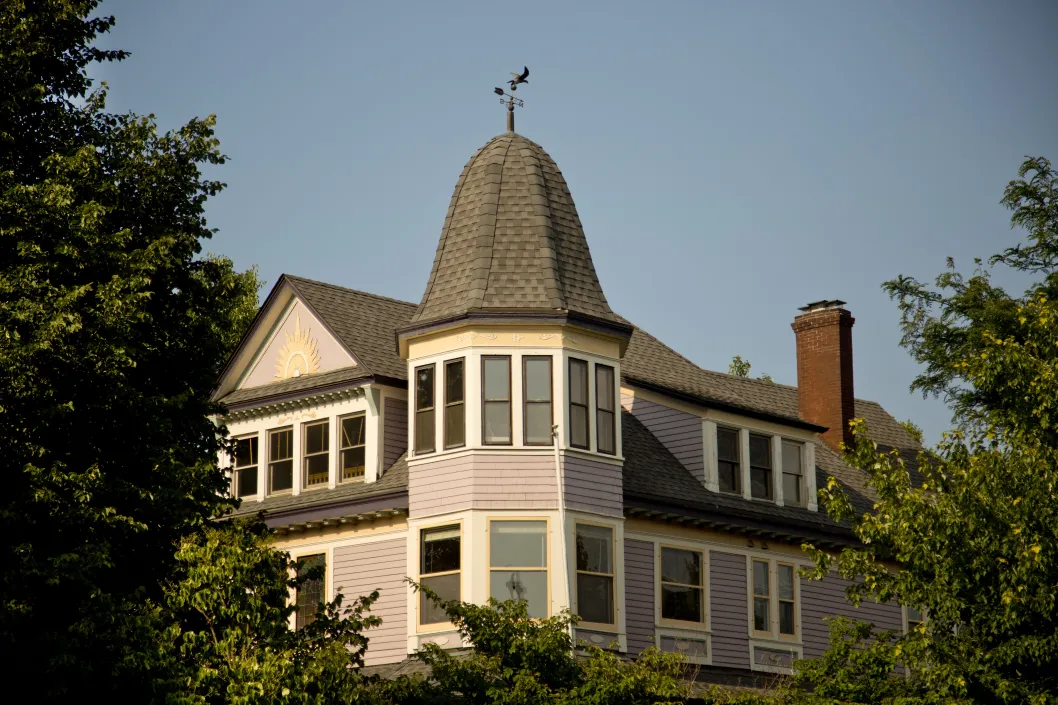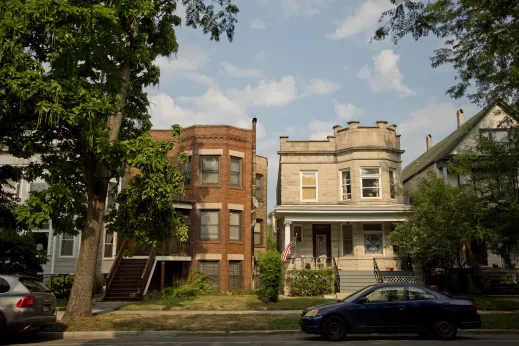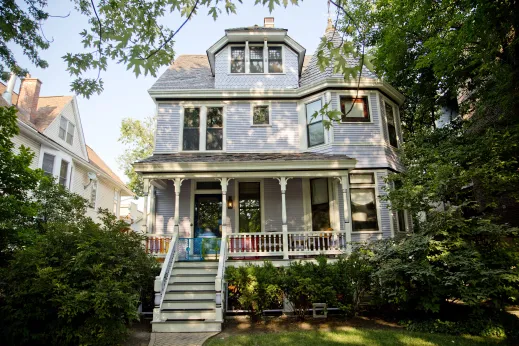 Find Apartments in Nearby Neighborhoods
Apartment Buildings in Ravenswood
New Ravenswood Chicago Apartments for Rent