Lincoln Park Apartment Living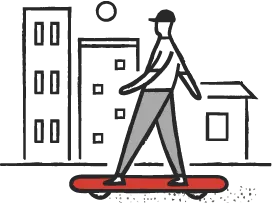 Neighborhood Vibe
Lincoln Park apartments are filled with students and young professionals, unsurprising given the presence of DePaul University. Still, there's also an abundance of families with children and empty-nesters who call Lincoln Park home.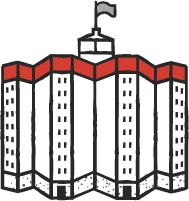 Heart of the Neighborhood
Apartments for rent in Lincoln Park are typically found between two landmarks in the neighborhood: the 1,200 acres of green space along the lakefront (the actual Lincoln Park) or the 'L' stops at Fullerton/Seminary or Armitage.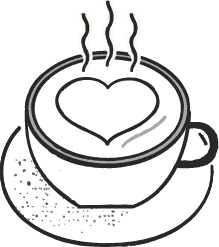 What We Love Most
Lincoln Park Zoo is the oldest public zoo in America, and the park that got its name from Abraham Lincoln is a massive playground for Chicagoans to walk, jog, ride bikes, rent kayaks, swim, sunbathe, race boats and enjoy picnics.

Best Way to Get Around
The CTA covers most of the territory, and the 'L' Red, Brown, and Purple lines are accessible via the Fullerton and Armitage stations. 
Find Lincoln Park Apartments
Apartments for rent in Lincoln Park
Around the Neighborhood
General
Apartment renters searching for a place of any size -- whether it's a studio, 1-bedroom, 2-bedroom, or 3-bedroom apartment and up -- can find apartments for rent in Lincoln Park that bundle the best experiences of renting in Chicago. The neighborhood is simply brimming with apartments for rent. And it makes sense, given that this neighborhood boasts a full-time population of around 69,000 residents.
Renters will find Lincoln Park rentals in refurbished brownstones, lofts, condos, single-family homes, and new luxury buildings.
Lincoln Park just about has it all in this 3.2 square mile section of the city: Lake Michigan, North Avenue Beach, running paths, bike paths, the lakefront park (also called Lincoln Park), a college campus (DePaul University), Lincoln Park High School, dining and entertainment options that are seemingly endless, and all manner of shops and boutiques.
Students and young professionals are ubiquitous, but there's also an abundance of families with children and empty-nesters who call Lincoln Park home. There are many street festivals on the streets, from Taste of Lincoln Ave to the famous Sheffield Garden Walk during the summer months in Lincoln Park.
Lincoln Park's geographic size and density have led to several sub-neighborhoods with active community groups that could be their neighborhoods in other cities and filled with apartments. The larger Lincoln Park neighborhood includes Ranch Triangle, West DePaul, Sheffield Neighbors, DePaul, Park West, Wrightwood Neighbors, Lathrop Homes, Lincoln Central, Old Town Triangle, and Mid-North.
Apartments for rent can also be found in the adjacent neighborhoods of Lakeview to the north and Old Town to the south of Lincoln Park.
There are several shopping districts in Lincoln Park, and public transportation is a cinch in this Chicago neighborhood. The streets are narrow, shady, quaint, and secluded from the main thoroughfares. Lincoln Park is close to the Kennedy Expressway and Lake Shore Drive.
Cultural Landmarks in Lincoln Park
Lincoln Park, Chicago, is known for its beautiful park and rich cultural heritage that showcase art, history, and entertainment:
Lincoln Park Conservatory: Located within the vast Lincoln Park, it is a haven for nature enthusiasts. This historic glasshouse features a stunning collection of exotic plants and flowers, and you can explore different themed rooms, including the Palm House, Fern Room, Orchid House, and Show House.
Lincoln Park Zoo: Adjacent to the Lincoln Park Conservatory, the Lincoln Park Zoo is one of the oldest zoos in the United States. This renowned attraction offers free admission and showcases animals from around the world, from big cats and primates to penguins and reptiles.
Chicago History Museum: Located just south of Lincoln Park, the Chicago History Museum is a treasure trove of the city's past. This renowned cultural institution offers engaging exhibits, artifacts, and interactive displays that chronicle Chicago's history and its significance in shaping American culture. Visitors can explore exhibits on topics such as the Great Chicago Fire, Chicago's role in the Civil Rights Movement, and the city's vibrant music scene.
Steppenwolf Theatre Company: Nestled in Lincoln Park, the Steppenwolf Theatre Company is a world-renowned theater known for its innovative and thought-provoking productions. Founded in 1974, the theater has gained international recognition for its commitment to artistic excellence and social engagement. Steppenwolf showcases a wide range of contemporary plays.
Second City: A few blocks from Lincoln Park, Second City is a legendary improv comedy theater that has nurtured some of the biggest names in comedy. ISecond City was a launching pad for comedians, including stars like John Belushi, Tina Fey, and Stephen Colbert.
Peggy Notebaert Nature Museum: Situated just north of Lincoln Park, the Peggy Notebaert Nature Museum celebrates the natural world and environmental conservation. The museum features interactive exhibits, educational displays, and a living butterfly haven.
Public Transportation in Lincon Park, Chicago
Lincoln Park offers excellent public transportation options, making navigating the city easy and accessing nearby attractions from this vibrant neighborhood.
CTA Train Lines:

Brown Line: The Brown Line is popular with Lincoln Park residents. The Diversey and Fullerton stations serve the neighborhood, providing quick connections to downtown Chicago, the Chicago Loop, Old Town River North, and other North Side neighborhoods like Lakeview Roscoe Village, Ravenswood, and Lincoln Square.
Red Line: The Red Line is one of the busiest CTA lines. The Fullerton station serves Lincoln Park and provides direct access to the Magnificent Mile, Gold Coast, Lakeview, Wrigley Field, Uptown, Edgewater, Rogers Park, and the Chicago Theatre District.

CTA Bus Routes: Lincoln Park is well-served by several CTA bus routes:

#8 Halsted: The Halsted bus route runs along Halsted Street, offering easy access to destinations such as Greektown, the Illinois Medical District, and the West Loop.
#22 Clark: The Clark bus route is a major north-south artery, passing through Lincoln Park and connecting the neighborhood to popular destinations such as DePaul University, Andersonville, and the Gold Coast.
#36 Broadway: Broadway is a vital bus route in Lincoln Park, providing access to downtown Chicago and other North Side neighborhoods.
#151 Sheridan: The Sheridan bus route travels along Sheridan Road, offering access to Lake Shore Drive and the lakefront. It's a scenic route through Lincoln Park and connects to downtown Chicago.
Popular Lincoln Park Apartment Buildings
Elevate Lincoln Park Apartments
The Residences at NewCity Apartments
The Belden Stratford Apartments
2756 North Pine Grove Apartments
451 West Wrightwood Apartments
Search Lincoln Park Apartments by Unit Type
Find your perfect Lincoln Park apartment for rent based on size by refining your search to your desired floor plan. Search Lincoln Park studios, one bedroom, two bedroom, three bedroom, and four bedroom apartments for rent.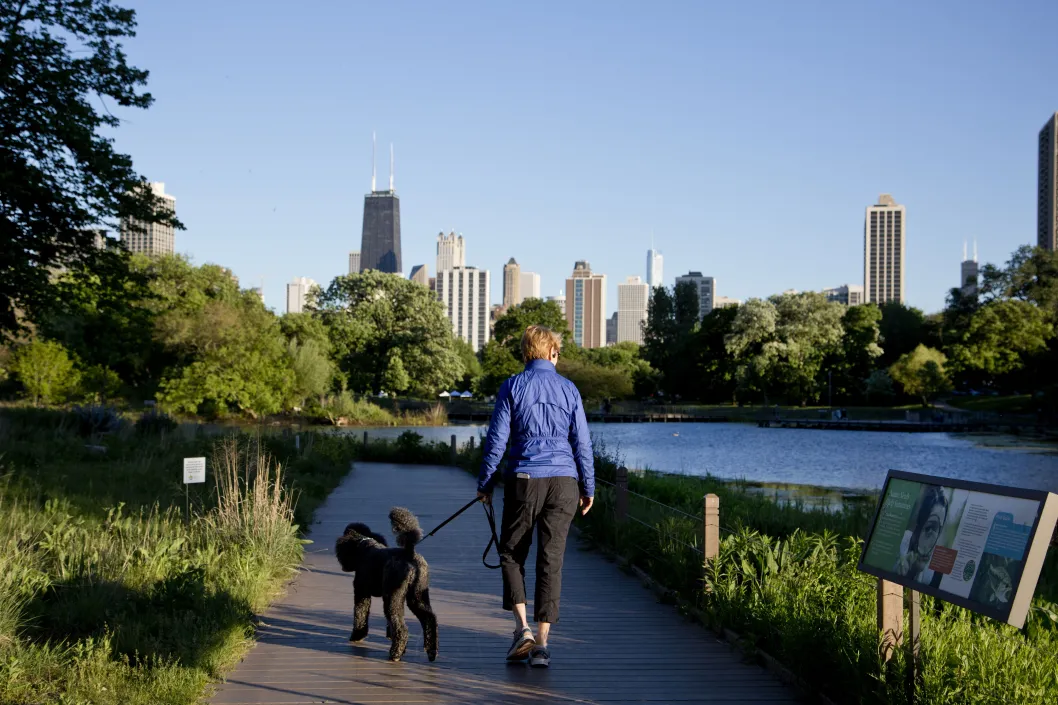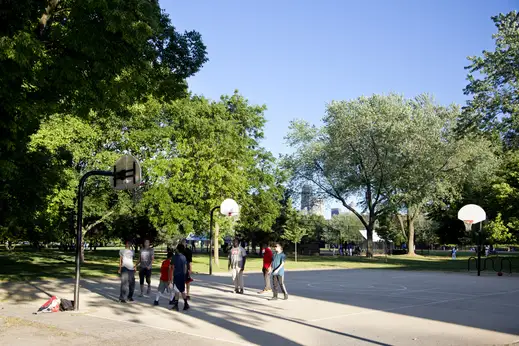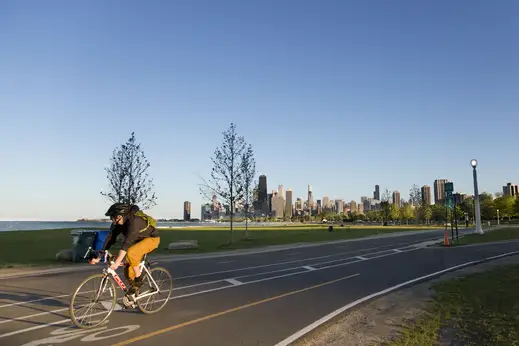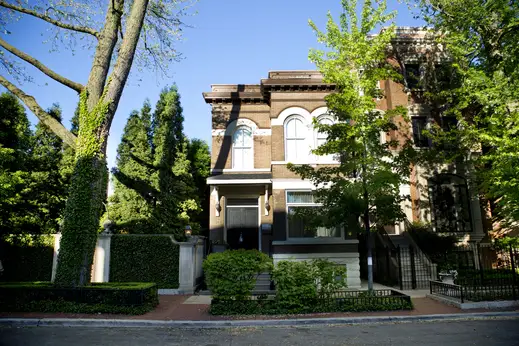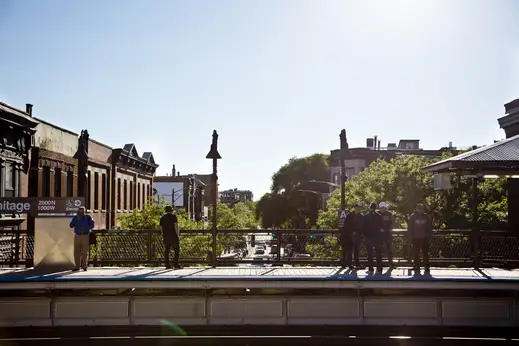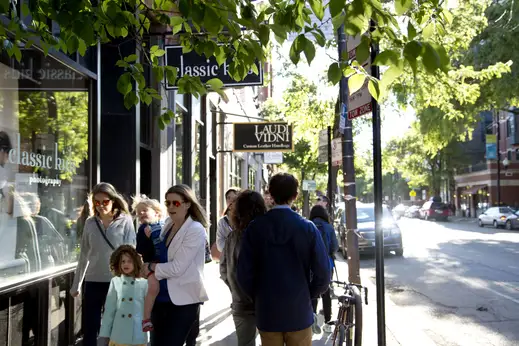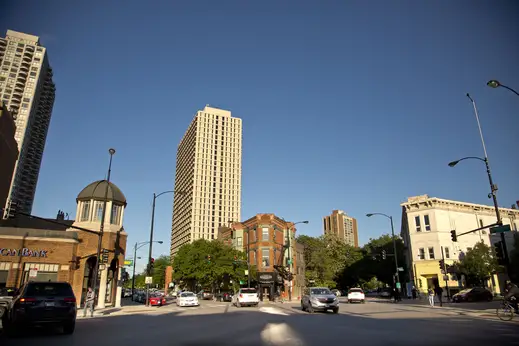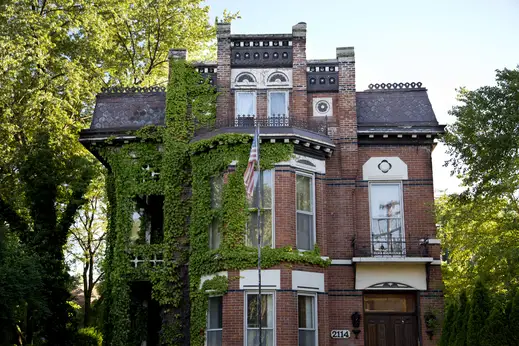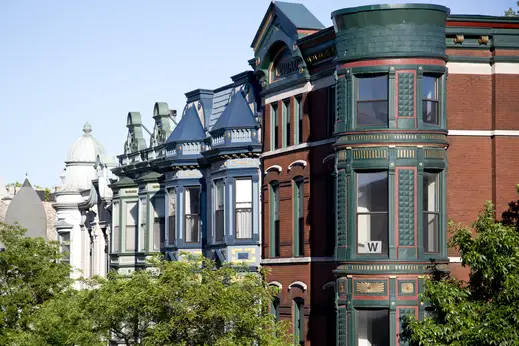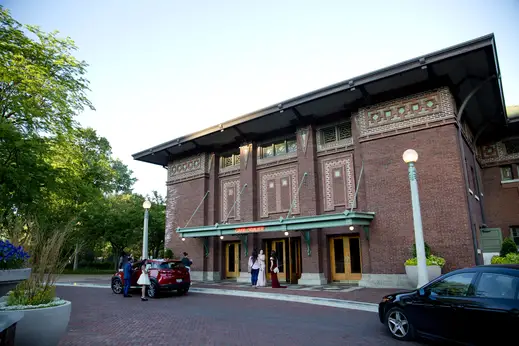 Dining in Lincoln Park
Lincoln Park apartments tend to have high walkability scores because you can get to pizza restaurants, brunch spots, bakeries, and tapas joints in no time. There always seems to be some new place to try, and chances are you'll discover a neighborhood mainstay that you rely on when cooking seems like a hassle. Lincoln Park is also home to a famous hot dog stand known for serving up ribald humor at the ordering counter and fast food.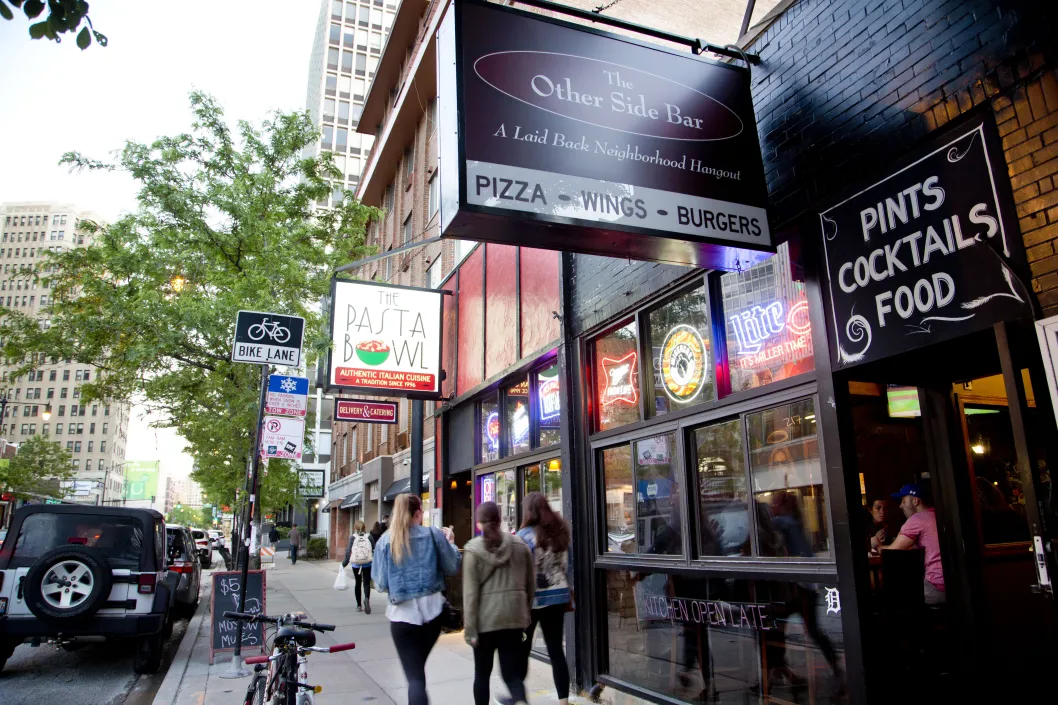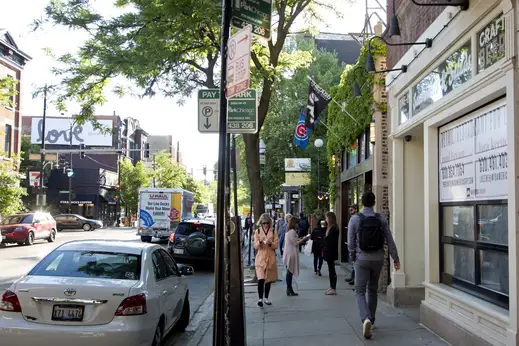 Nightlife in Lincoln Park
There's no shortage of public houses and watering holes in Lincoln Park, and apartment renters in this Chicago neighborhood will easily find a place to go out and socialize. There are cheaper dive bars that signal allegiance to one of the Big Ten schools and are popular for big games, but there are also upscale places to have more "adult" conversations over high concept cocktails.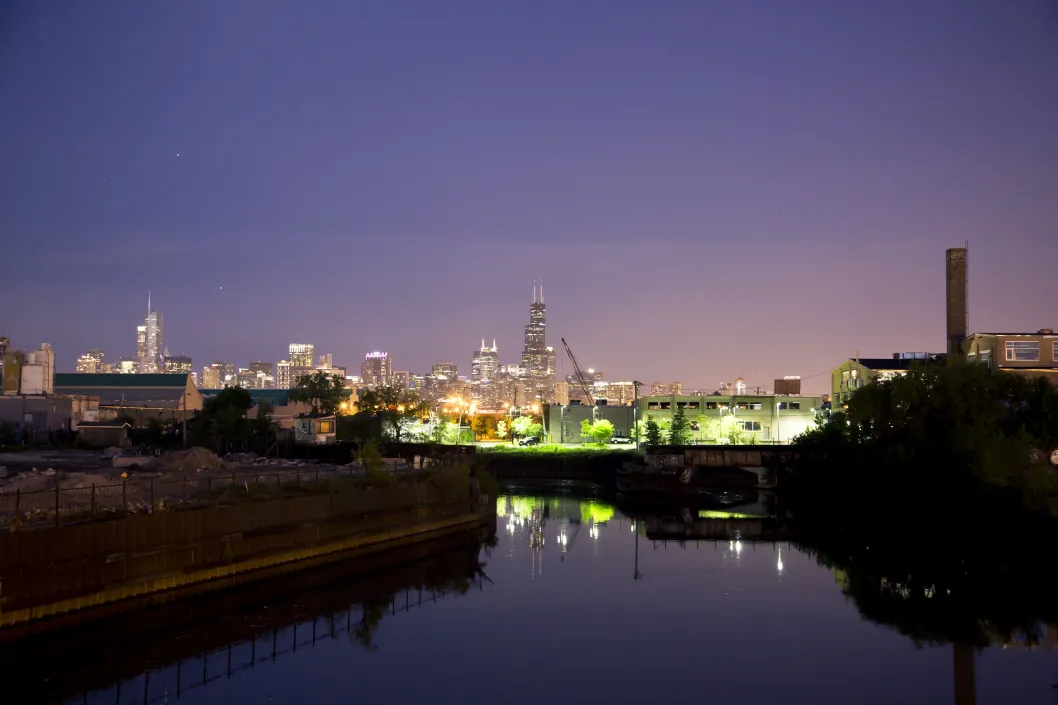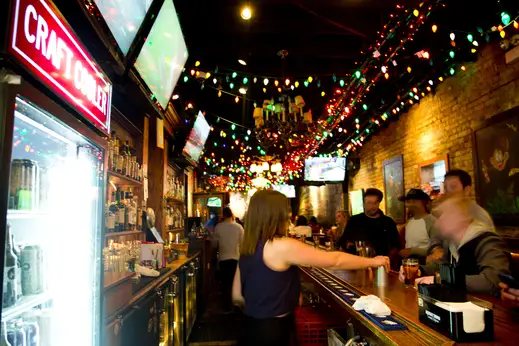 Coffee in Lincoln Park
Lincoln Park Chicago residents have no trouble getting a buzz from caffeine purveyors. Locals enjoy the eclectic ambiance and old-world charm of the Bourgeois Pig Cafe on Fullerton Avenue.
History in Lincoln Park
Lincoln Park is a Chicago neighborhood easily recognized for its placid, tree-lined streets, an abundance of apartments for rent, and quiet pace of life. But the history in this neighborhood is anything but tranquil; some pretty major events went down here, in fact. For starters, the park named after the 16th U.S. President Abraham Lincoln also contains a famous statue of ol' Abe (one of five Lincoln statues around the city). There are opportunities to engage with nature in Lincoln Park, both at the nation's oldest public zoo and the Alfred Caldwell Lily Pool. The latter is a famous entry into the distinctly American school of Prairie-style architecture. The neighborhood's history also contains its share of lore from Chicago's seedy underbelly. John Dillinger, aka Public Enemy No. 1, frequently dined at the Seminary Restaurant 2402 N Lincoln Avenue. Lincoln Park apartment renters would know it today as the site of a McDonald's by the DePaul University campus. Dillinger also met his demise outside the Biograph Theater on N Lincoln Ave.
Find Apartments in Nearby Neighborhoods
Apartment Buildings in Lincoln Park
New Lincoln Park Chicago Apartments for Rent