Hyde Park Apartment Living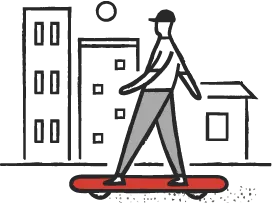 Neighborhood Vibe
The Gothic architecture of the limestone buildings at the University of Chicago's campus sets the tone for a really gorgeous neighborhood filled with apartments for rent. It looks pretty, but it's also pretty casual, thanks to large parks, beaches, homes with green lawns, and plenty of down-to-earth businesses found along E 53rd St in Hyde Park's own "downtown" district.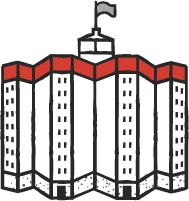 Heart of the Neighborhood
All Hyde Park apartments orient around either the UChicago dorms or the state-of-the-art health center at UChicago Medicine. The shopping district along E 57th St caters to the student population, and it's where longstanding bookstores like Powell's Books Chicago have been infusing the neighborhood with good reads and good vibes for decades.

Best Way to Get Around
Hyde Park apartments are close to Lake Shore Drive, the best route for drivers to get north or south on most days. Apartment renters who take public transit can hop on the CTA Green line south of the Midway at Cottage Grove station. There's also the Metra station, where the Metra Electric and South Shore Line make stops before heading to the Loop in downtown Chicago.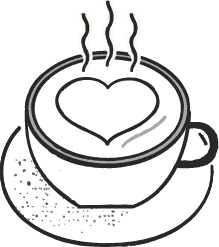 What We Love Most
The UChicago campus, the Midway Plaisance, and Jackson Park are all highlights to discover from Hyde Park apartments. But one of the best features of renting in this community is 61st Street Farmers Market. This community hub is great for mingling with neighbors while buying fresh, locally-grown produce and other wares.
Find Hyde Park Apartments
Apartments for rent in Hyde Park
Around the Neighborhood
Where is Hyde Park in Chicago?
Located on the South Side, Hyde Park, Chicago, is one of the most culturally significant neighborhoods in the United States. The Museum of Science and Industry and the University of Chicago bookend the historic neighborhood to its east and west. With the University of Chicago in Hyde Park, many students and professors call the vibrant neighborhood home.
South of Downtown Chicago, Hyde Park apartments can be found within the neighborhood's boundaries at Washington Park on the west, Lake Michigan on the east, Midway Plaisance on the south, and E 51st Street/Hyde Park Boulevard on the north. Zip codes for Hyde Park include parts of 60615 and 60637.
History of Hyde Park
A deep Chicago history surrounds Hyde Park apartments. During the Chicago World's Fair of 1893, the Manufactures and Liberal Arts Building was located in Jackson Park on the east side of the neighborhood. The Manufactures building made history as the largest structure in area under one roof at the time of the exposition. Only two buildings from the 1893 World's Fair still stand including the Palace of Fine Arts, now the Museum of Science and Industry in Hyde Park.
Overview of the Neighborhood
Hyde Park apartments are plentiful for students, professors, UChicago staff, young professionals, and families. Award-winning and architecturally distinct buildings joined the ranks of apartments in Hyde Park that combine excellent locations near renowned institutions like the University of Chicago with unparalleled apartment amenities for renters. Many vintage high-rise apartments are clustered near Lake Michigan along the neighborhood's eastern edge (just east of the Metra tracks). These rentals offer larger apartments at relatively affordable rent compared to other popular Chicago neighborhoods -- and often, these Hyde Park apartments for rent come with outstanding views of Lake Michigan.
Hyde Park, Chicago's residential streets are charming, lined with old trees, stately single-family homes, three-flats, and low-rise condominium or apartment buildings. Many of the older stock in Hyde Park housing was converted into apartments for rent for the University Chicago student population. The southern portion of Kenwood, which has large mansions, is often merged and referred to as Hyde Park-Kenwood.
The University of Chicago is among the most prominent features of this south-side neighborhood, followed by the family home of Barack and Michelle Obama. This presidential residence may only be surpassed by Frank Lloyd Wright's famous Robie House as the most identifiable parcel of Hyde Park housing. Residents enjoy the many advantages of living around one of the nation's most prestigious universities, such as a diverse population and thriving small businesses in the neighborhood's own "downtown" shopping district.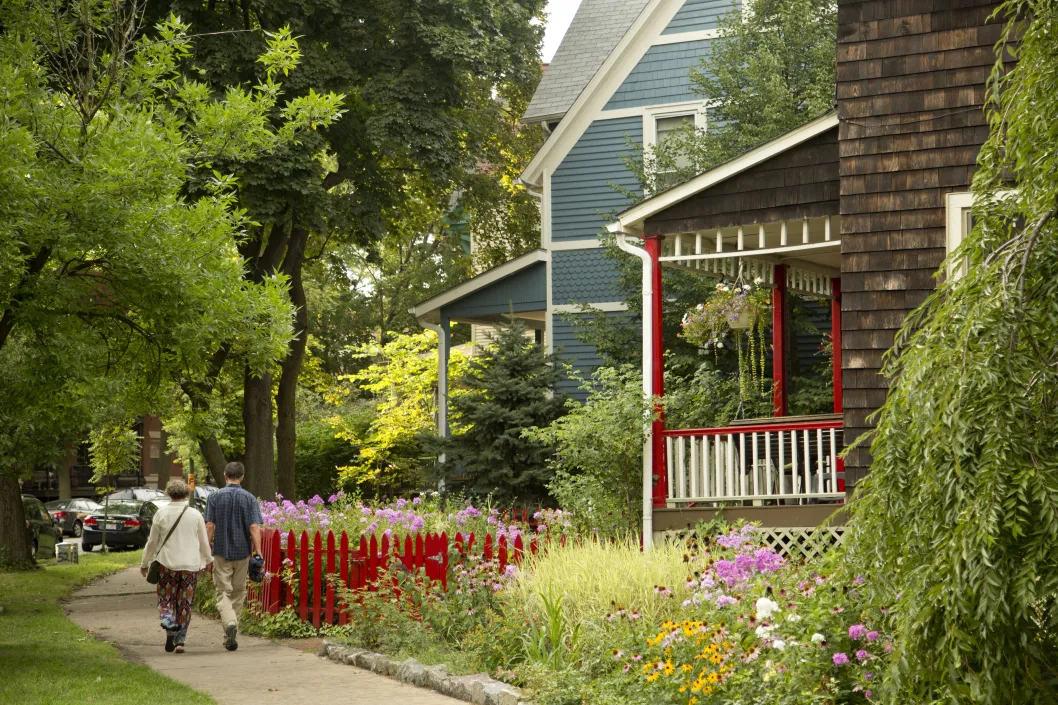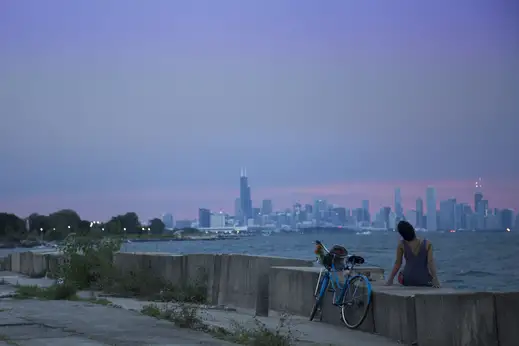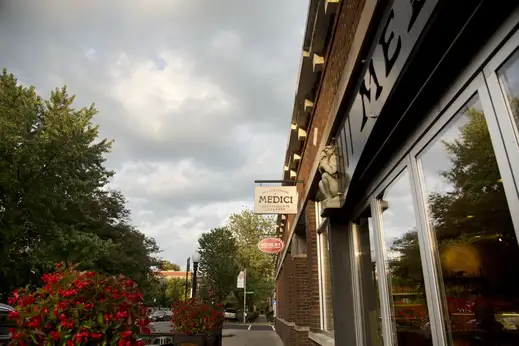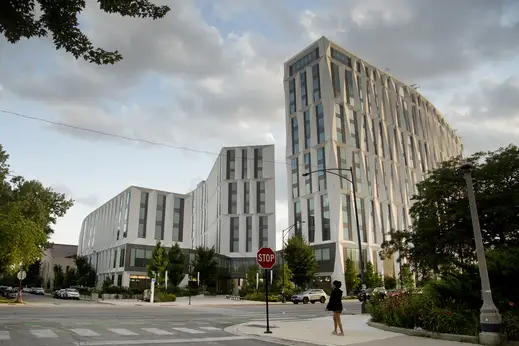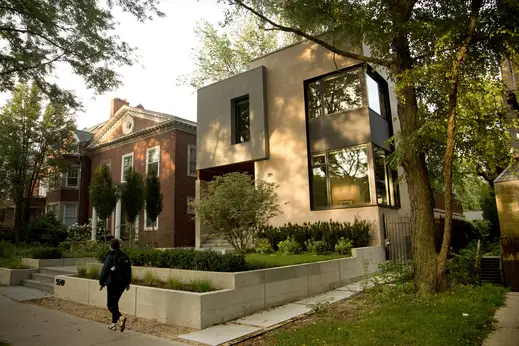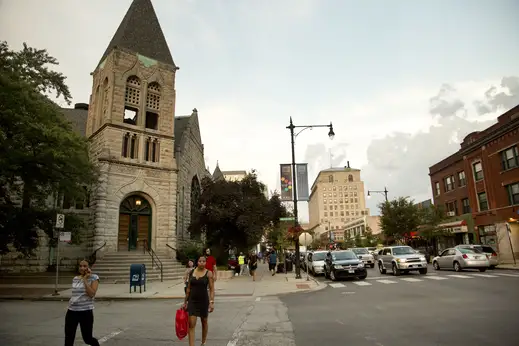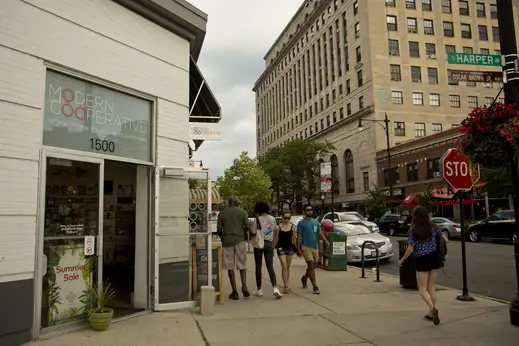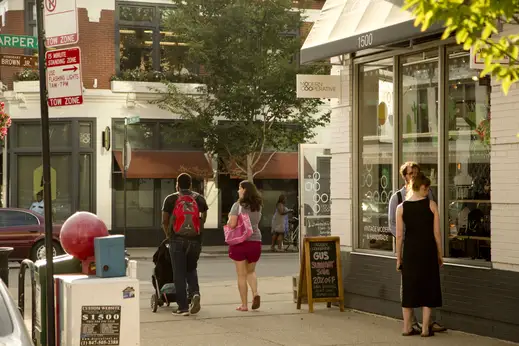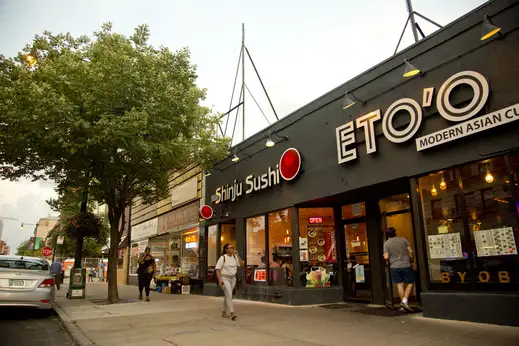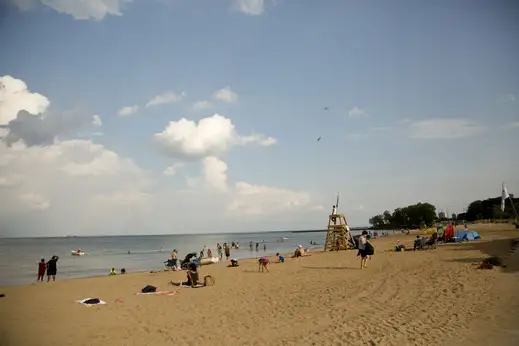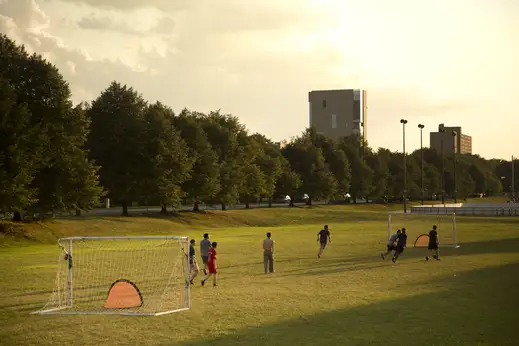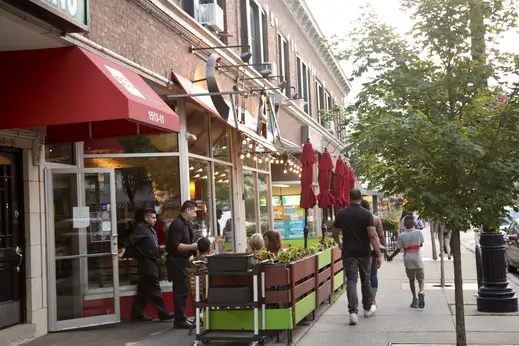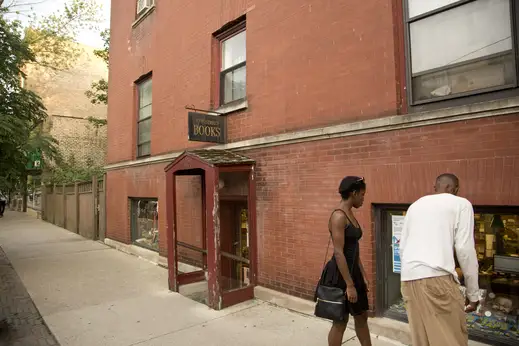 Demographics of Hyde Park, Chicago
Hyde Park has a population of 29,456, according to the latest data from the Chicago Metropolitan Agency for Planning from 2020. Thanks to the presence of the University of Chicago, a large number of college students and academics live in Hyde Park. Its diverse community makes Hyde Park one of the most desirable neighborhoods in Chicago. The median age in Hyde Park is 30.5, which is four years younger than the median age of residents in the City of Chicago. Median household income is $52,423 per year. For 46 percent of residents who make $50,000 to $74,999, 20 to 29 percent of their income goes toward housing costs.
Weather in Hyde Park, Chicago
The temperature in Hyde Park doesn't sway dramatically from the rest of Chicago, despite being a lakeside enclave. The humid summer days and nights may be a slight adjustment for apartment renters moving to Hyde Park from drier climates; after all, the abundant greenery lets off quite a bit of humidity.
The winters are cold and can bring a bracing wind off Lake Michigan. Renters moving to Hyde Park would be wise to pack their cold-weather gear or visit a Chicago retailer that carries sturdy winter coats. And if the primary purpose of the move to Hyde Park apartments is attending classes at UChicago, make sure to invest in resilient footwear because it's a highly walkable neighborhood...but walking from neighborhood apartments to UChicago's campus won't be very pleasant if the footwear isn't a match for the elements. Chicago is prone to snow, sleet, and ice during winter. Plan the wardrobe accordingly.
Amenities in Hyde Park, Chicago
Local Shopping and Dining
Hyde Park residents can find all the shopping and dining they need without stepping foot outside of the neighborhood. One of the best areas for shopping in Hyde Park is E 53rd St between S Woodlawn Ave and S Lake Park Ave. Along 53rd Street, you'll find Target, Lululemon, Philz Coffee, CVS, Starbucks, Chipotle, Sweetgreen, and much more. Shopping centers such as Dorchester Commons, Kimbark Plaza, Harper Court, and Hyde Park Shopping Center can be found on 53rd or just off of the main drag. The best part of Hyde Park's bustling 53rd street are the incredible local businesses and world-class restaurants like Virtue, Valois, Small Cheval, Chant, Cafe 53, and The Sit Down. There are also many Hyde Park businesses close to the University of Chicago campus, especially along E 55th Street, like Nella Pizza e Pasta, Roux, and Woodlawn Tap.
Best Restaurants in Hyde Park
Medici on 57th
Valois
Chant
Virtue
Ja' Grill Hyde Park
14 Parish
Nella Pizza e Pasta
The Soul Shack
Ascione Bistro
The Nile
Best Coffee Shops in Hyde Park
Cafe 53
Sip & Savor
Plein Air Cafe
Bonjour Cafe Bakery
Grounds of Being
Best Bars in Hyde Park
The Cove Lounge
Falcon Inn
Woodlawn Tap
The Promontory
Seven Ten Social

Entertainment and Recreational Activities
Voracious readers flock to the popular 57th Street Books to find rare volumes and recent bestsellers or browse their kids' reading section to pick up some beginner books. Powell's Books Chicago is another popular independent bookstore in Hyde Park's unofficial downtown district. The addresses surrounding these bookstores on E 57th St are some of the most trafficked destinations for apartment renters. Medici On 57th is a mainstay and favorite among University of Chicago students.
There are numerous libraries, public lectures, concerts, and vast expanses of beautiful greenery within reach of apartments for rent. The famed "Midway Plaisance" served as a staging ground for entertainment during the World's Fair in 1893.
Renters in Hyde Park apartments and the neighboring Kenwood neighborhood are never too far from the lakefront path, the vistas of Jackson Park (with its public golf course, tennis courts, and Japanese sanctuary), and The Museum of Science and Industry.
Parks in Hyde Park, Chicago
Promontory Point
Jackson Park
Harold Washington Playlot Park
Burnham Park
57th Street Beach
Garden of Phoenix
Nichols Park
Spruce Park
Stagg Field
Washington Park (with Bynum Island)
Jackman Field
Museums in Hyde Park, Chicago
Smart Museum
Oriental Institute
DuSable Museum of American History
Hyde Park Art Center
Museum of Science and Industry
Transportation in Hyde Park
Transportation in and around Hyde Park, Chicago, is convenient due to the many CTA Bus routes running through the neighborhood. There are also several Metra Stops in Hyde Park, transporting residents throughout the Chicago area and its suburbs. Having a car isn't essential in Hyde Park, but for those who do drive, Lake Shore Drive runs east of Hyde Park for easy access to the rest of the city.
Instead of using the El to get to the Loop, buses are probably the best option to commute to Downtown Chicago from Hyde Park. The CTA Green Line runs along the west side of Washington Park, which is something of a hike for residents. CTA buses, however, travel to and from the Loop via Lake Shore Drive. Divvy bike stations are peppered throughout the neighborhood for those who prefer a more active commute.
Access to Highways in Hyde Park
Lake Shore Drive access to the east of Hyde Park
I-90/94 access Dan Ryan to the west of Hyde Park
CTA Bus Routes in Hyde Park
2 Hyde Park Express
4 Cottage Grove
6 Jackson Park Express
10 Museum of Science and Industry
15 Jeffery Local
28 Stony Island
55 Garfield
171 University of Chicago/Hyde Park
172 University of Chicago/Kenwood
192 University of Chicago Hospitals Express
Metra Train Stops in Hyde Park
University of Chicago 59th Street
55th-56th-57th street
51st-53rd street (Hyde Park)
47th street (Kenwood)
Distance to the Loop and Other Notable Locations
Hyde Park, Chicago, is about seven miles south of the Chicago Loop. Taking Lake Shore Drive is one of the more popular transportation routes to venture north or south, though many apartment renters will find practically everything they need in this charming part of Chicago.
Museum of Science and Industry - located in Hyde Park
University of Chicago - located in Hyde Park
Guaranteed Rate Field - 5 miles northwest
Soldier Field - 5.1 miles north
Millennium Park - 7.0 miles north
The Loop - 7.3 miles north
Navy Pier - 7.8 miles north
Midway International Airport - 8.5 miles west
United Center - 10.0 miles northeast
Lincoln Park Zoo - 10.6 miles north
Wrigley Field - 13.3 miles north
O'Hare International Airport - 23.9 miles northwest
Parking in Hyde Park, Chicago
What's parking like in Hyde Park, Chicago? Street parking in Hyde Park consists of free parking, permit parking, and metered parking. Parking availability in Hyde Park, Chicago, can vary, depending on the street, day, and time. There are many streets where you can park for free, but always check the street signs — your car will get towed or ticketed if you don't.
Busier streets tend to have metered parking where you can pay at a designated station or via the Park Chicago App. Some residential streets, usually in more congested areas, have permit parking. In some of these areas, parking without a permit is allowed during specific hours. If you reside within one of these zones, check the Office of the City Clerk to see if you qualify for a Residential Zone Parking Permit. Additionally, weather and street cleaning can affect parking hours, so double and triple check the signs when parking.
Other parking options in Hyde Park include paid garages and lots, which can be found via a quick search or apps like SpotHero. Many apartments offer on-site parking, which can be outside, covered, unheated, or heated. For students and professors, check the University of Chicago for campus parking options and rules.
Schools and Higher Learning Institutions in Hyde Park, Chicago
The University of Chicago encompasses a large swath of Hyde Park from 61st Street to 55th Street, west to Washington Park, and University Avenue on the east. Aside from the university, there are numerous schools for all ages in this Chicago neighborhood. These include Bret Harte Elementary School, Reavis Elementary Math & Science Special School, University of Chicago Laboratory Schools, and William W Carter Elementary School.
Public, Private, and Charter Schools in Hyde Park
University of Chicago Lab School
Ray Elementary School
Phillip Murray Elementary Language Academy
Akiba-Schechter Jewish School
Parent Cooperative For Early Learning
Walter H. Dyett High School for the Arts
Bret Harte Elementary School Playground
Kozminski Community Academy
Andrew Carnegie School
John Fiske Elementary School
Universities, Colleges, and Other Higher Learning Institutions
University of Chicago
Pritzker School of Medicine
Booth School of Business
University of Chicago Law School
School of Social Service Administration
Harris School of Public Policy
Divinity School
Graham School of Continuing Liberal and Professional Studies
Pritzker School of Molecular Engineering
Catholic Theological Union
Luther School of Theology
Chicago Theological Seminary
McCormick Theological Seminary

The University of Chicago Off-Campus Housing in Hyde Park
The University of Chicago is this neighborhood's most prominent resident. The historic university, often referred to as UChicago by students and locals, has myriad educational programs for undergraduate and graduate studies. The UChicago dorms are popular housing options for undergraduate students, and a percentage of graduate students elect to live in UChicago graduate housing on campus. Still, there are plenty of affordable off-campus housing apartments for rent in Hyde Park that cater to students near the UChicago campus.
Local Events in Hyde Park, Chicago
Hyde Park knows how to have a good time with its annual festivals and events. One of the most popular events in Hyde Park is the Hyde Park Jazz Festival, The free Jazz Fest takes place every September supporting jazz performance and development, especially on the South Side of Chicago. Between Kenwood and Woodlawn during the first weekend of June, the 57th Street Art Fair has celebrated fine arts and crafts for 76 years and counting. One of the most-anticipated summer events in Chicago is Hyde Park Summer Fest with major headliners like Clipse and 2 Chainz in 2023 and Busta Rhymes and Lupe Fiasco in 2022. The University of Chicago also hosts a variety of events and festivals throughout the year, such as the UChicago Folk Festival and Humanities Day. Additional Hyde Park event highlights include Bantu Fest, Hyde Park Community Art Fair, Hyde Park Garden Fair, and African/Caribbean International Festival of Life.
Real Estate in Hyde Park, Chicago
Overview of the Real Estate Market
MAC Properties Chicago is one of the largest apartment landlords in Hyde Park, with many of the University of Chicago students, staff, and faculty. The ranks of MAC Properties here include Solstice on the Park, an award-winning apartment building designed by noted architect Jeanne Gang. Aside from the strikingly modern Solstice on the Park, thousands of other units are under the management of MAC apartments in this beautiful south-side neighborhood.
There is a wide selection of apartment sizes and layouts throughout most of the year, with the most volume of availability in the spring and summer. If you refine your search, you should always be able to find ample Hyde Park studio, one-bedroom, two-bedroom, three-bedroom, and four-bedroom apartments for rent.
Rental Rates and Popular Housing Styles
With its rich history in Chicago, it's no surprise that Hyde Park is home to many vintage apartments and historic buildings. Renters will find a variety of classic Chicago apartment styles like two and three flats, courtyard buildings, and greystones. There's vintage charm around every corner, including larger historic apartment buildings. Built in 1928, the Cloisters Apartments is a 13-story neo-gothic building where more Nobel laureates have lived than any other apartment building in the world. On the United States National Register of Historic Places, the Shoreland Apartments was once a grand lakefront hotel that opened in the 1920s. If you're looking for something a little more modern, Hyde Park also offers many new and luxury apartment buildings like Solstice on the Park and 5252 Apartments.

The median rent for Hyde Park one-bedroom apartments is $2,100 per month, and the median rent for two-bedroom apartments in Hyde Park is $2,850 per month. Renters will find many studios, one-bedrooms, and two-bedrooms in the neighborhood. Students who split rent with a few other roommates can find apartments with three or more bedrooms in Hyde Park, but they are a little less common.
Popular Apartment Buildings in Hyde Park, Chicago
Future Development in Hyde Park, Chicago
Set to open in 2025, the Obama Presidential Center will bring a new chapter of history to the Hyde Park neighborhood. The Obama Presidential Center will be located in Jackson Park adjacent to the University of Chicago and will draw visitors from around the world. At 5209 S Harper Avenue, further development for Harper Court is underway. This phase of the project will bring a new low-rise building, replacing a former one-story structure. The construction will expand retail space and create new office and lab space. As new residential buildings in Hyde Park, Chicago are completed, check Domu listings for more information on how to be one of the first residents.
Find Apartments in Nearby Neighborhoods
Apartment Buildings in Hyde Park
New Hyde Park Chicago Apartments for Rent