Old Town Apartment Living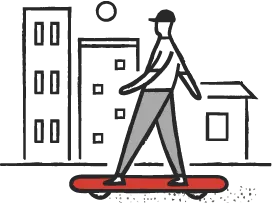 Neighborhood Vibe
Old Town Chicago apartments remain in high demand, and for a good reason. The eclectic lineup of locally-owned businesses provides an excellent excuse for a shopping trip on any day, including boutiques specializing in fudge and spices and one of the country's most renowned aquarium specialty stores.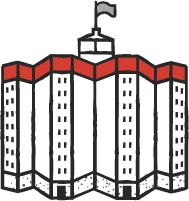 Heart of the Neighborhood
The Wells St corridor between Lincoln Ave and Division St abounds with dining, entertainment, and boutiques in Old Town. Second City is nationally renowned for its prestigious alums of improvisational comedy geniuses, and it's a safe bet that you'll find a few hearty laughs if you drop by a show any night of the week.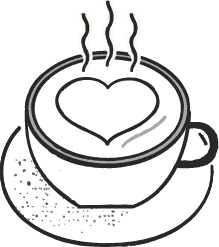 What We Love Most
The Old Town Art Fair is an outdoor festival in late spring and is a terrific chance to explore outstanding art, sample BBQ from local restaurants, and listen to music at the neighborhood's biggest block party of the year.

Best Way to Get Around
The 'L' Red line station at Clark/Division is the nearest within the boundaries of Old Town (sometimes called "Olde Towne"). CTA buses frequently run down Clark St and North Ave, and Lake Shore Drive is directly east of the Old Town Chicago neighborhood.
Apartments for rent in Old Town
Around the Neighborhood
Where Is Old Town in Chicago?
Chicago's Old Town boasts an abundance of restaurants, shopping, and entertainment on the North Side of Chicago. The neighborhood lies north of Division, west of Clark, south of Wisconsin, and east of Larabee, though Old Town's borders often blend with neighboring Lincoln Park. Old Town, Chicago, is near the Gold Coast and River North as well. The Old Town neighborhood can be considered one of the last North Side communities before arriving in Downtown Chicago.
Overview of the Old Town Neighborhood
The Chicago apartment building boom has not skipped over this downtown neighborhood. Apartments in Old Town remain in high demand, and for a good reason. They can be found in courtyard buildings, converted lofts, and subdivided houses.
There are outstanding restaurants in this Chicago neighborhood, with pretty much any cuisine covered, and bars -- lots of bars, even for Chicago. When you shop the various boutiques, the proprietor is likely to be a second-, third-, or fourth-generation business owner. You'll find such stuff here as fudge, pipe and tobacco goods, spices, and one of the country's most renowned aquarium specialty stores.
A lot is happening in the Old Town neighborhood, especially in new luxury rental buildings. Many luxury apartments are more affordable just off of Wells Street. The recent development of several luxury buildings along Wells Street has provided some desirable living options for those seeking the finest luxury apartments in Chicago while fully immersed in the action of Old Town. Old Town, Chicago, is centrally located between Lincoln Park and River North, so getting around those neighborhoods is just a short walk. The Gold Coast, Streeterville, and the Chicago Loop are a little further.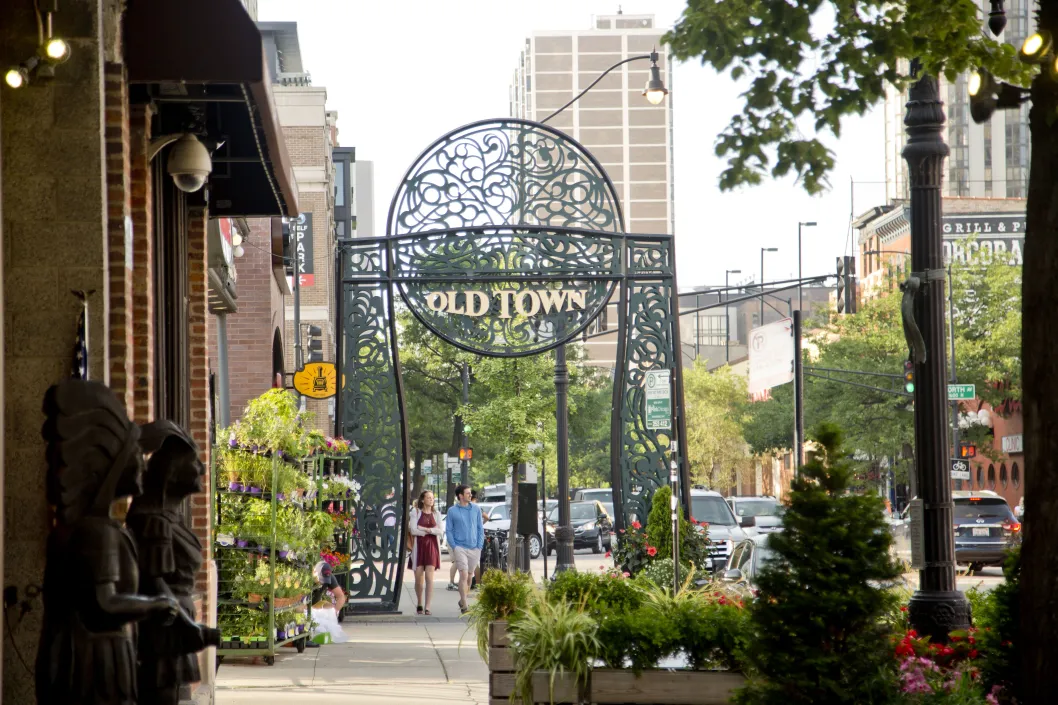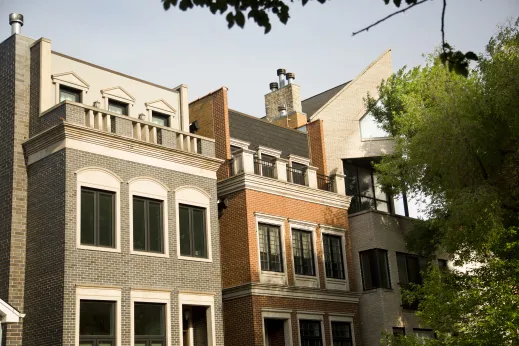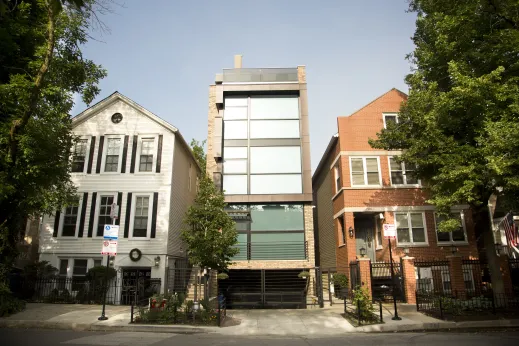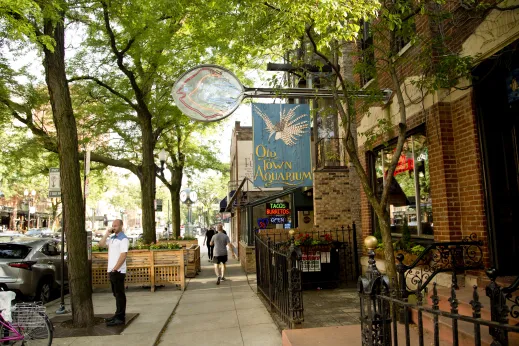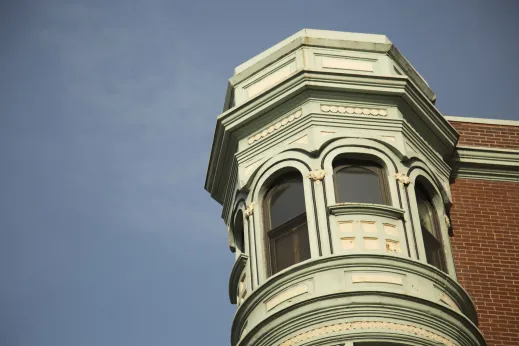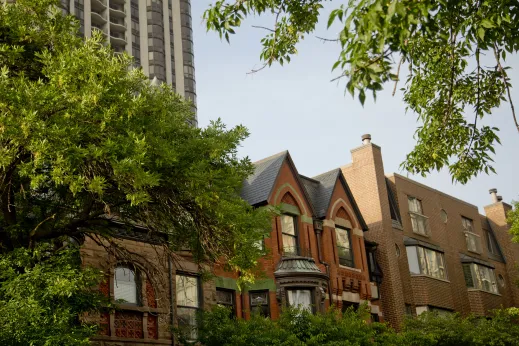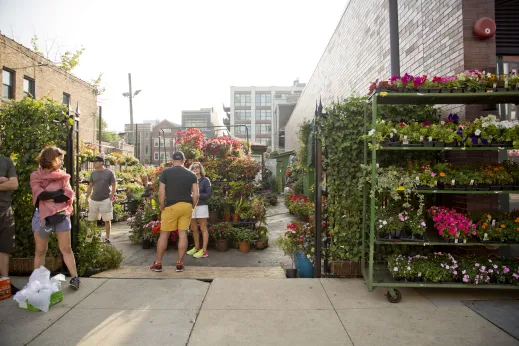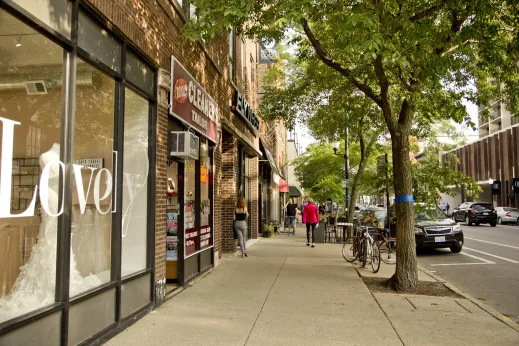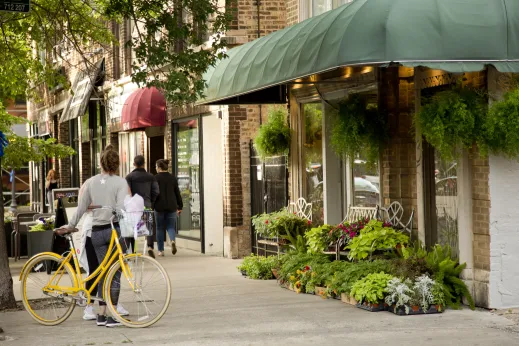 History in Old Town
Old Town is known for its annual art fair, but there's more history to be uncovered in Chicago's near north side neighborhood than meets the eye. The founder of The Society for Human Rights called Old Town home and the founder of one of the first African-American studies programs at a major university. The actor and athlete who first portrayed Tarzan on the silver screen called Old Town their home at one point. This neighborhood is also adjacent to Goose Island, the little slab of land parked in the North Branch of the Chicago River and inspired the craft beer label of the same name.
Demographics of Old Town, Chicago
Old Town's population includes more than 42,000 people based on 2020 US Census data. The median age of Old Town, Chicago, is 32.8 years old, and about 91% of households don't have children. Old Town's nightlife and proximity to Downtown Chicago make it especially appealing to young professionals looking to live it up in the city.
Residents in Old Town, Chicago, make a median household income of $99,000; for comparison the City of Chicago's median household income is $62,000. The neighborhood can be pricey due to its popularity with young professionals and density of entertainment and luxury businesses. Old Town residents between 25 and 44 earn an even higher median income of $109,000 per year. Renters live in 62% of housing units in Old Town.
Weather in Old Town, Chicago
What is the weather like in Old Town, Chicago? Old Town's weather pretty much matches up with the rest of the city. During Chicago's beloved summers, temperatures can range from 63 to 82 degrees on average, but don't underestimate how hot and humid it can get in Chicago — temperatures above 90 degrees aren't uncommon in the summer. Thankfully we can cool down in Lake Michigan!
Both fall and spring in Chicago can fluctuate quite a bit, and Old Town is no different. Average temperatures range from 40 degrees to 70 degrees, so don't put away your jacket quite yet. Windbreakers and hoodies are also a good idea to keep on hand. Winter can scare people away from Chicago, but we promise the frigid temperatures aren't that bad when you get to enjoy an amazing city like this. Temperatures on average range from 22 to 45 degrees, but temperatures in the teens, single digits, and below zero are not uncommon. If you have a pet, don't forget to buy them a winter coat and booties too!
Amenities in Old Town, Chicago
Local Shopping and Dining Options
Why do people want to live in Old Town, Chicago? Old Town restaurants, shopping, and entertainment are the best of the best. Residents in Old Town frequent Broken English Taco Pub, Intelligentsia Coffee, and Foxtrot Market. Within a few blocks are Kanela Breakfast Club, Insomnia Cookies, Happy Camper Pizzeria, 3 Arts Club Cafe, and many more great eats.
Best Restaurants in Old Town, Chicago
Twin Anchors
Orso's Restaurant
Happy Camper
Topo Gigio Ristorante
Boka
Alinea
Small Cheval - Old Town
Broken English Taco Pub
The VIG Chicago
Best Coffee Shops in Old Town, Chicago
Intelligentsia Coffee
Foxtrot Market
Elaine's Coffee Call
Cocoa + Co. Coffee and Chocolate Cafe
PiniPico Brazilian Cafe
Kapéj Coffee
Best Bars in Old Town, Chicago
Old Town Ale House
The House of Glunz
The Fireplace Inn
Old Town Pour House
Marge's Still
Corcoran's Grill & Pub
Benchmark
80 Proof
The VIG Chicago
The J. Parker
The Rabbit Hole
Entertainment and Recreational Activities
Live entertainment options in Old Town Chicago are rich, thanks to Second City, one of the country's premier improv comedy venues, and Zanie's, a comedy club with a rich lineup of comedians. If you want to catch a gaggle of Second City alums and improv comedians relaxing while taking a break from the stage, stop by Old Town Ale House on North Ave.
Oh, and don't forget to spend a day at the annual Old Town Art Fair. Other cultural destinations near Old Town include Newberry Library, The Poetry Foundation, Alliance Francaise de Chicago, City Gallery at the Historic Water Tower, Charnley-Persky House Museum, Chicago History Museum, Farm in the Zoo, and Lincoln Park Zoo.
Parks in Old Town, Chicago
Seward Park
Washington Square Park
Goudy Park
Oz Park
Lincoln Park South Fields
Lincoln Park Nature Walk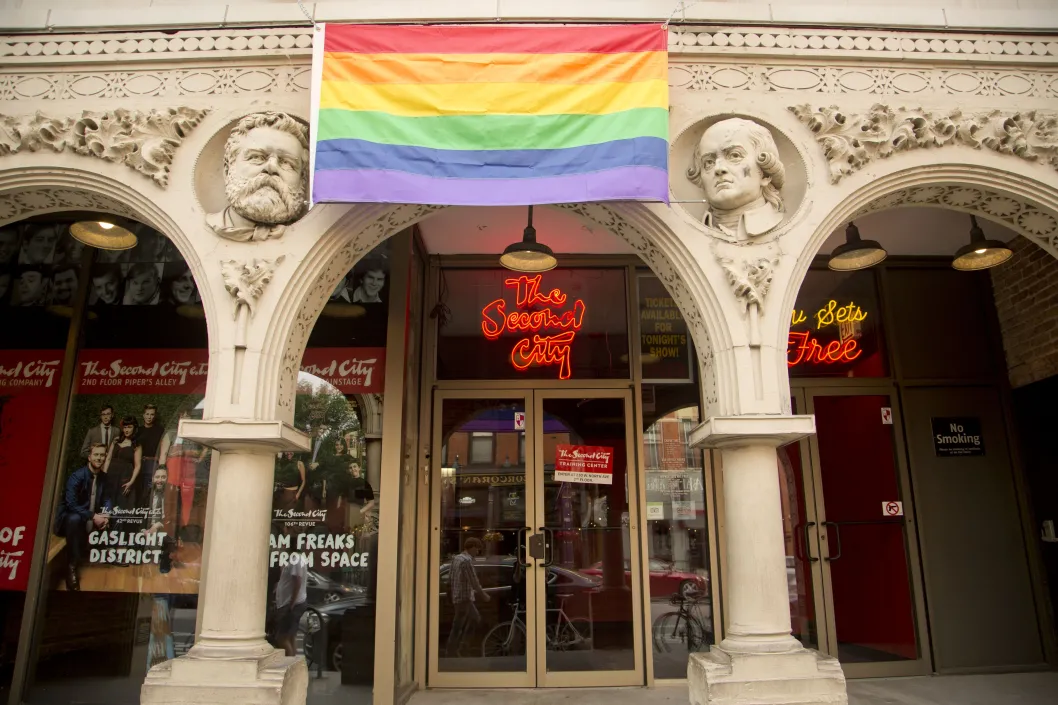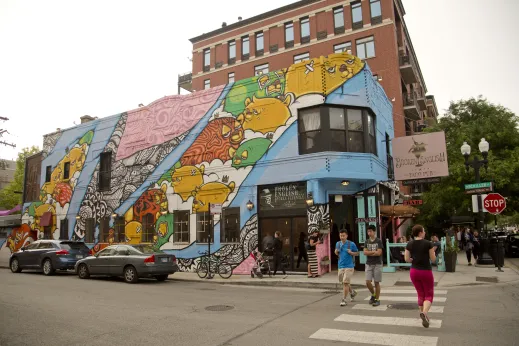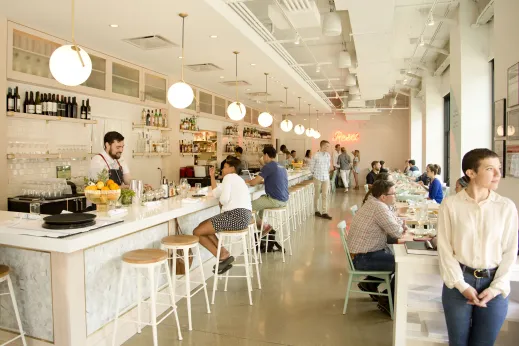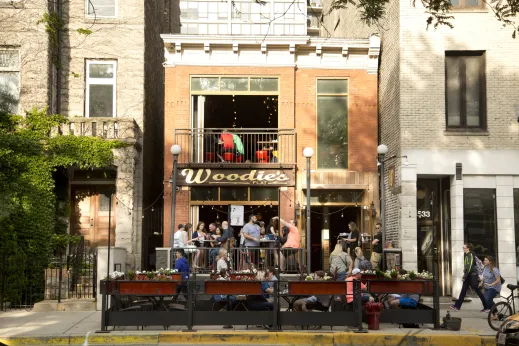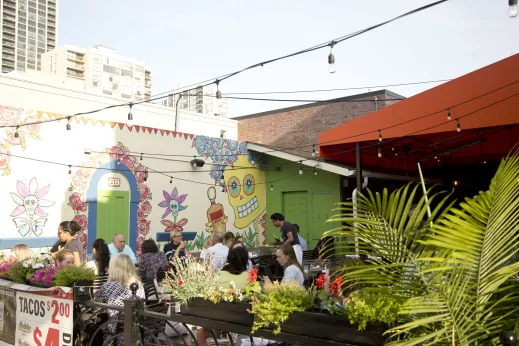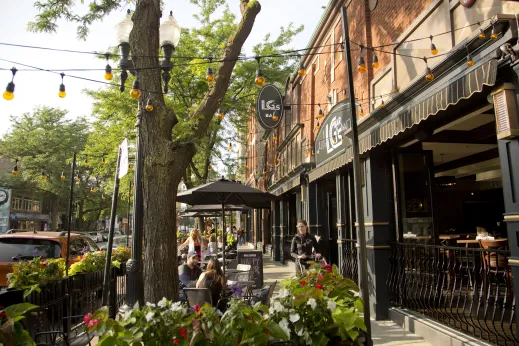 Transportation in Old Town, Chicago
CTA Bus Routes and 'L' Stations in Old Town
The 'L' Red line station at Clark/Division is the nearest within the boundaries of Old Town (sometimes called "Olde Towne"), although the CTA buses frequently run down Clark Street and North Avenue, allowing for brief rides to the 'L' Red or Brown lines. The Brown Line station is just a few blocks west at Sedgwick and North Avenue. CTA bus routes available from Old Town include: #9, #22, #36, #37, #70, #72, #151, #156.
Access to Highways Near Old Town
Lake Shore Drive (US Route 42) to the east - Fullerton Pkwy or Lasalle Dr exit
Kennedy Expressway (I-90) to the west - North Ave exit, east toward Lake Michigan
Metra Train Stops Near Old Town
Union Pacific North Line (Clybourn Station)
Distance to the Loop and Other Notable Locations
How far is Old Town to Downtown Chicago? Old Town is very close to Downtown Chicago and less than three miles to the heart of the city. Some consider Old Town to be a transitional neighborhood into Downtown Chicago. If you live in Old Town, the city of Chicago and its most famous destinations are at your fingertips. Additionally, commuting to work is a breeze if you work in the Loop, especially with the easy access to CTA buses, the 'L,' and Lake Shore Drive.
Lincoln Park Zoo - 0.9 miles northeast
Wrigley Field - 2.8 miles north
Navy Pier - 2.8 miles southeast
The Loop - 3 miles south
Millennium Park - 3.1 miles southeast
United Center - 3.3 miles southwest
Soldier Field - 4.3 miles southeast
Guaranteed Rate Field - 6 miles south
University of Chicago - 9.7 miles south
Museum of Science and Industry - 10.4 miles southeast
Midway International Airport - 12 miles southwest
O'Hare International Airport - 15 miles northwest
Schools in Old Town, Chicago
Public, Private, and Charter Schools in Old Town and Nearby Neighborhoods
LaSalle Language Academy
The Latin School of Chicago
Walter Payton College Preparatory High School
Ogden Elementary School
Franklin School
Skinner North Classical School
Cooley Vocational High School
St Chrysostom's Day School
Ruben Salazar Elementary School
Edward Jenner Elementary Academy of the Arts,
Cornerstone Academy
The Noble Academy
Immaculate Conception St Joseph School
Francis W Parker School
British International School Chicago- Lincoln Park
The Catherine Cook School
Civitas Schools
Manierre Elementary School
Universities, Colleges, and Other Higher Learning Institutions Near Old Town
Moody Bible Institute
Loyola University Water Tower Campus
Loyola University School of Law
DePaul University Lincoln Park Campus
Real Estate in Old Town, Chicago
You will find a good mix of available apartments in Old Town. However, this neighborhood tends to have smaller floor plans, very few 4-bedroom apartments, and many luxury apartments for rent. Studios and one-bedroom apartments dominate the Old Town. 2-bedroom apartments in Old Town are a plentiful option if you wish to find a roommate to share costs and make this neighborhood more affordable. For larger 3-bedroom apartments, there is always a handful available, but they don't last long in this hot neighborhood.

Popular Apartment Buildings in Old Town
Find Apartments in Nearby Neighborhoods
Apartment Buildings in Old Town
New Old Town Chicago Apartments for Rent