How much rent can I afford?
Our rent calculator will tell you how much you should spend on rent for your next apartment. Try our rent calculator.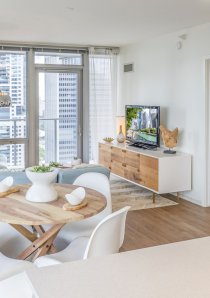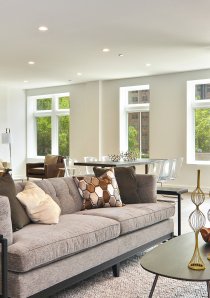 How Much Should I Spend on Rent?
Do you know how much you can afford for rent for your next apartment, or how much apartment can I afford? Many apartment searches begin with a desire to move to a particular area or a search for an apartment for rent with a specific feature—like a great view or outdoor space. But how much should you spend on rent?
Recent studies indicate that one in four renters nationally spends more than half of their income on rent and utilities. Finding an apartment is all about finding a good deal, so everyone's asking: "How much rent can I afford?"
The general rule is that your monthly apartment rent (excluding utilities) should not exceed 30% of your gross monthly income. So, to help you budget effectively, we created this handy apartment rent calculator. Use the formulas in this rent calculator to develop an effective plan to see how much to spend on rent for your next apartment.
Wondering if you should rent vs. buy? This rent affordability calculator may guide beacon as a rent vs. buy calculator. Domu arrives at the rental ranges above using a basic formula that produces a lower rental range, a middle range, and a higher range. This rental calculator's ranges don't factor in other renters' debts.
How Apartment Landlords Can Use Our Rent Calculator
Landlords searching for a way to double-check an income range to match their apartment listing price can use this rent affordability calculator. Before investing time and effort into the tenant screening process, this can be an excellent preliminary check on how much rent tenants can afford. 
Landlords who are in the process of setting up their apartments for rent can benefit from this simple tool. Landlords may consider this a "How Much Rent to Charge?" calculator. 
 
Popular Apartment Searches