Evanston Apartment Living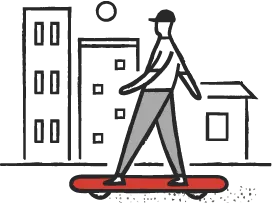 Neighborhood Vibe
Evanston apartments let residents enjoy many of the same cultural highlights such as art, music, and fine dining (with drinks, obviously) as their Chicago neighbors to the south.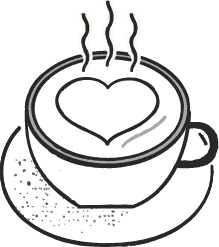 What We Love Most
A typical Saturday for an apartment renter in Evanston might begin with a visit to the massive farmer's market, followed by an excursion to the shops in downtown Evanston. Next, they might stay fit with an acrobatic exercise course in The Actor's Gymnasium or go for a jog along the lakefront. They could wrap up their evening by screening a flick at the 18-screen movie theater near the Davis Metra stop or catch live jazz set over dinner at legendary Pete Miller's Steakhouse on Sherman Ave.

Best Way to Get Around
Apartments in Evanston are serviced by the CTA Purple Line, which runs rush hour trains to and from downtown Chicago. The Metra Union-Pacific North Line stops at Central, Davis, and Main streets in Evanston, and CTA buses operate routes throughout the city and the suburban Pace bus.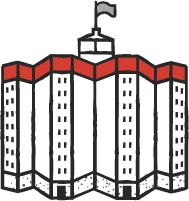 Heart of the Neighborhood
Evanston has several pockets of happening retail, shopping, and dining destinations. These include the Davis Street "downtown" Evanston district, Central Street near the Metra station and Green Bay Road, and Main/Chicago to the south.
Apartments for rent in Evanston
Around the Neighborhood
Welcome to Evanston, Chicago's Neighbor to the North
Immediately north of Chicago, Evanston offers the best of both worlds with its lush tree-lined streets and a robust downtown filled with entertainment and restaurant options. The most predominant Evanston neighborhoods include Downtown Evanston, Central Street, South Evanston, Ridge, Lakeshore, Dempster Street, Main Street, Howard Street, Chicago Avenue, and Noyes Street.
Located about 15 miles north of downtown Chicago, Evanston is home to the stunning Northwestern University and the nationally ranked academic powerhouse Evanston Township High School. Evanston was once considered for annexation by Chicago but resisted, maintaining its own identity as a smaller city on the shore of Lake Michigan.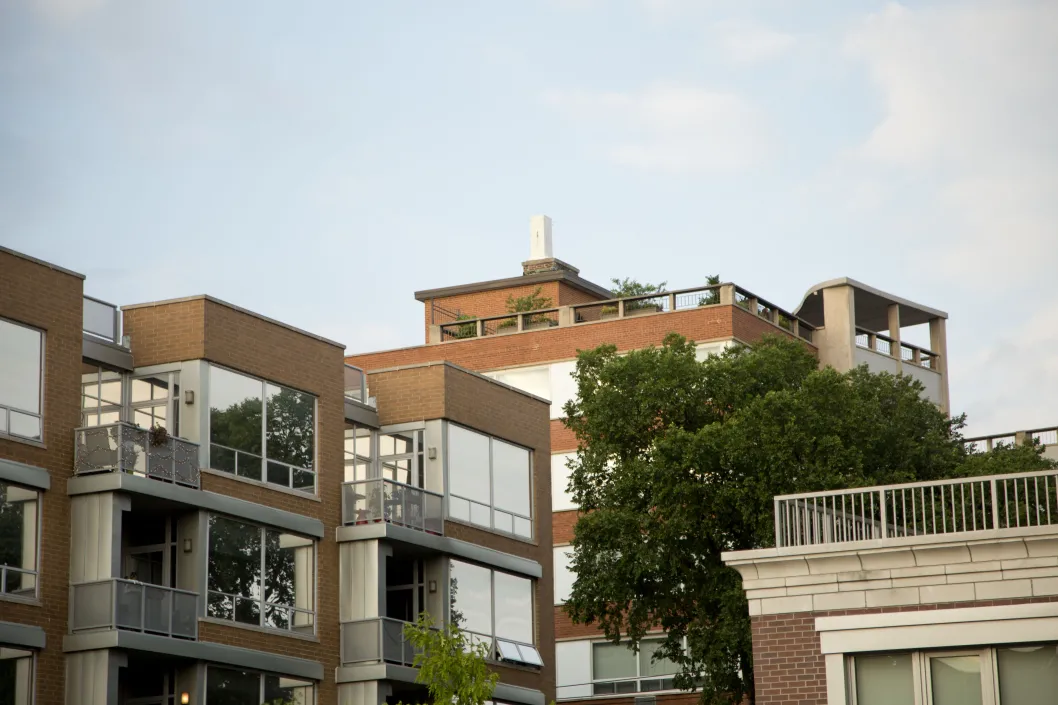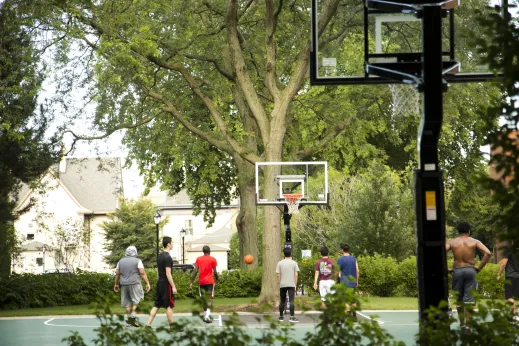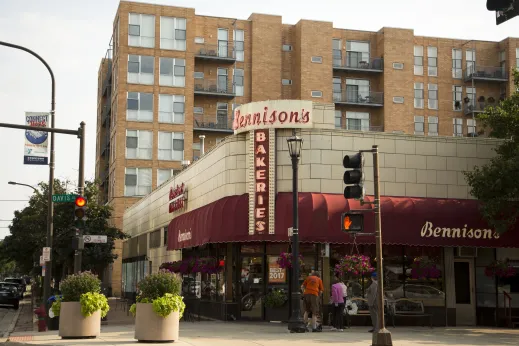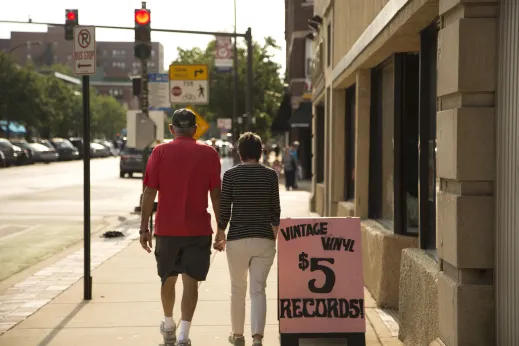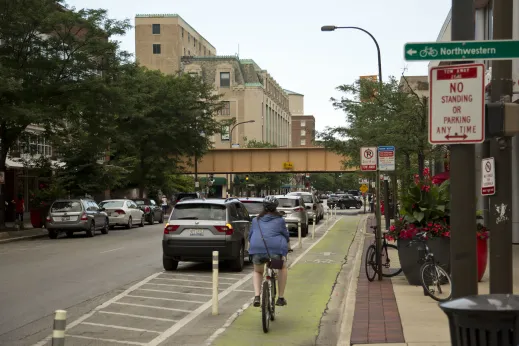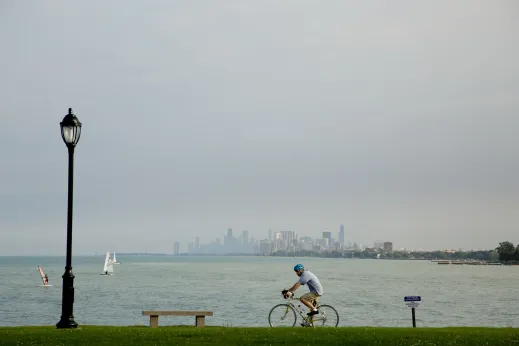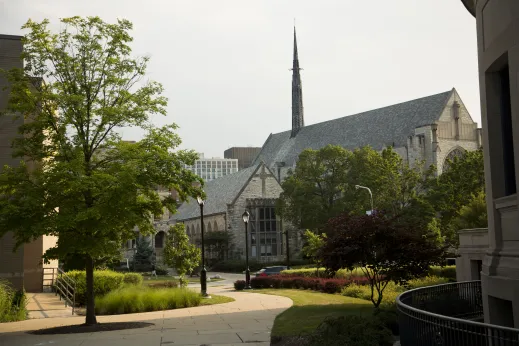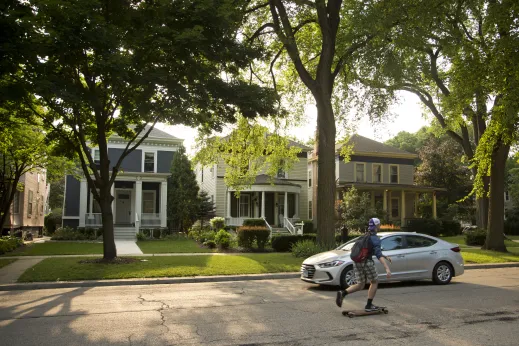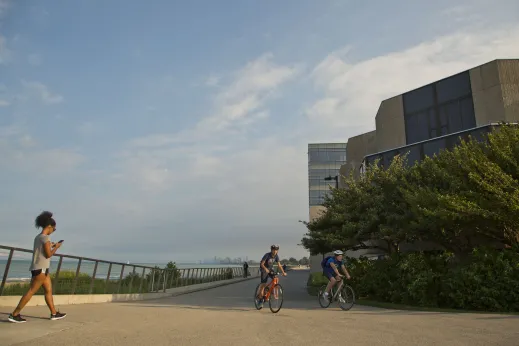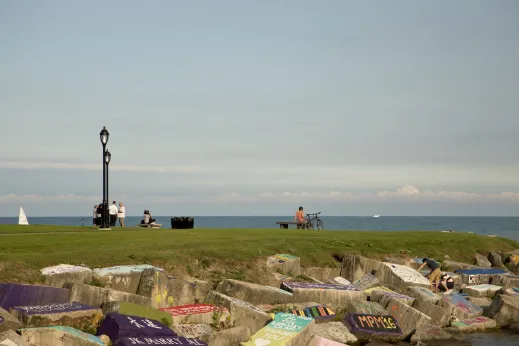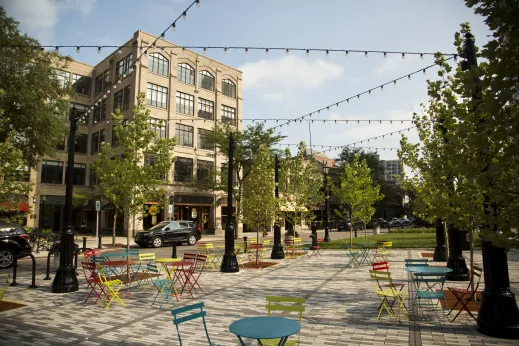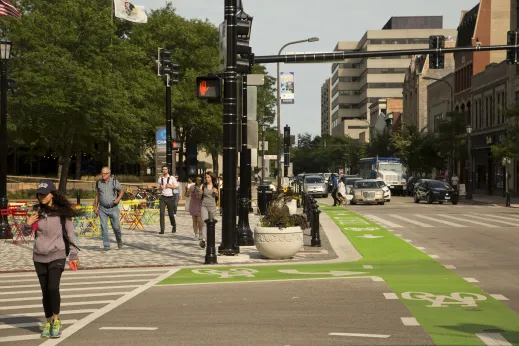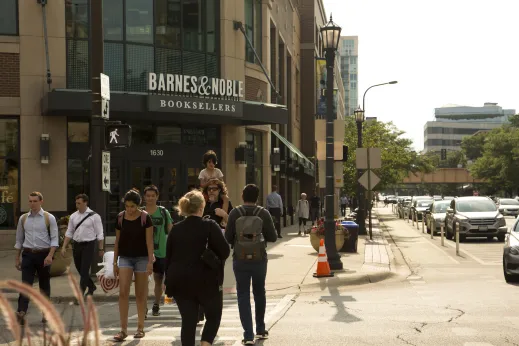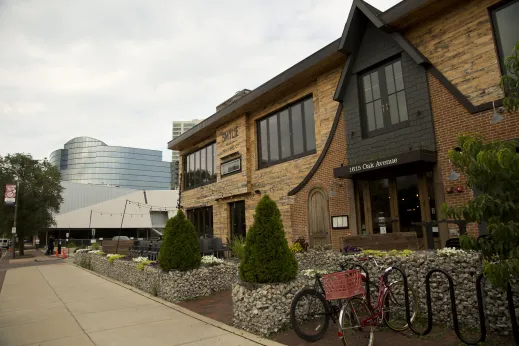 Where is Evanston, Illinois?
Evanston, Chicago's neighbor to the north, is a suburban city located in Cook County. It is bordered by Lake Michigan to the east, Skokie to the west, Wilmette to the north, and Chicago to the south. Evanston is easily accessible by car, train, and bus, making it a desirable location for living, working, and visiting. The charming suburb feels like it could be an extension of Chicago, especially because the CTA Purple Line runs through downtown Evanston to Chicago's north side.
History of Evanston
Evanston, Chicago's suburb to the north, sits on Potawatomi, Ojibwe, and Odawa homelands. These Native American people lived there until the 1830s when they were moved west. In 1847, the founders of Northwestern University, including the town's namesake, John Evans, submitted plans for the city to the county judge, and in 1853, the suburb was officially named the City of Evanston.
Due to fears caused by the Chicago Fire of 1871, wealthy Chicagoans built homes in Evanston, and the city continued to see significant growth in the early 20th century. Today, renters are drawn to Evanston apartments because of the vibrant city's commitment to community engagement.
Demographics of Evanston, Illinois
While Northwestern University brings a large population of students to Evanston, much of the city is occupied by families, professionals, and longtime residents. As of the 2022 Census estimate, Evanston's population was 75,544. The median household income in Evanston is $87,345, which is much higher than the City of Chicago's median household income of $65,781. The city has a higher-than-average cost of living, with housing costs being the largest factor. The average age in Evanston is 36.2 years old, with 19.1% of the population being under the age of 18 and 16.4% being over the age of 65.
Weather in Evanston, Illinois
Evanston, Illinois, experiences four distinct seasons. The average temperature in summer is a high of 81 degrees and low of 63 degrees, while the average temperature in winter is a high of 34 degrees and low of 19 degrees. The city usually receives moderate rainfall throughout the year, with an average of 38 inches annually. In the spring, Evanston experiences a transition from cold to warm weather, with some rainfall. Summers are mostly warm and humid, with occasional thunderstorms. Fall is characterized by cool and dry weather, and the foliage changes to beautiful colors. Winters are cold, with occasional snowstorms. The city experiences lake-effect snow, which occurs when cold air moves over the warm waters of Lake Michigan.
Amenities in Evanston, Illinois
Local Shopping and Dining
Evanston, Illinois offers many exciting shopping and dining options. The downtown area boasts a mix of local and national retailers, from boutique clothing stores to upscale home decor shops. For dining, there are many restaurants serving a variety of cuisines, including Thai, Italian, and Mexican. Evanston is also home to several craft breweries and specialty food stores. Overall, Evanston's shopping and dining scene caters to a wide range of tastes and preferences.
Best Restaurants in Evanston
Soul & Smoke
The Barn Steakhouse
The Graduate Homestead Room
Campagnola
Joy Yee Noodle
Lucky Platter
Dave's Italian Kitchen
Bat 17
Le Peep Evanston
NaKorn Urban Thai
Alcove Evanston
Tapas Barcelona
Koi Evanston
Edzo's Burger Shop
Oceanique
Peckish Pig
Blind Faith Cafe
Hewn
Best Coffee Shops in Evanston
Cupitol Coffee & Eatery
Backlot Coffee
Colectivo Coffee Evanston
Brothers K Coffeehouse
Reprise Coffee Roasters
Patisserie Coralie
Coffee Lab Evanston
Newport Coffee House
Philz Coffee
Best Bars and Breweries in Evanston
Ward Eight
Five & Dime
Bat 17
Prairie Moon
Sketchbook Brewing Company
Temperance Beer Co.
Double Clutch Brewing Company
Beer on Central

Entertainment and Recreational Activities
Think Evanston, Illinois, is just an average suburb? Think again. The bustling Chicago suburb offers many opportunities to enjoy art, music, entertainment, and the outdoors. From concerts at Evanston SPACE music venue to theater and dance performances at Northwestern University, there's no lack of things to do in Evanston, Illinois. For outdoor enthusiasts, Evanston boasts many beautiful parks, beaches, gardens, and trails. The suburb north of Chicago is also home to many museums, like the Halim Time and Glass Museum and Grosse Point Lighthouse and Maritime Museum. With so many cultural destinations, it's no wonder Evanston is a popular suburb of Chicago.
Parks in Evanston, Illinois
Dawes Park
Chandler Park
Lovelace Park
Ingraham Park
Lighthouse Beach Park
Mason Park
Penny Park
Leahy Park
Twiggs Park
Harbert Park
Ackerman Park
Baker Park
Bent Park
Brummel Park
Clyde-Brummel Park
Beaches in Evanston, Illinois
Clark Street Beach
Greenwood Street Beach
Lee Street Beach
Lighthouse Beach
Lincoln Street Beach
South Boulevard Beach
Landmarks and Museums in Evanston, Illinois
Mary and Leigh Block Museum of Art
Mitchell Museum of the American Indian
Frances Willard House Museum and Archives
Halim Time and Glass Museum
Evanston History Center
Grosse Point Lighthouse and Maritime Museum
Charles Gates Dawes House and Museum
Grosse Point Lighthouse
Ladd Arboretum
Merrick Rose Garden
North Shore Channel Trail
Northwestern University Evanston Campus
Shakespeare Garden
Transportation in Evanston, Illinois
Evanston provides public transportation options to downtown Chicago with its easily accessible train system, including the Chicago CTA Purple Line connecting through the Howard station with stops at South Boulevard, Main, Dempster, Davis, Foster, Noyes, and Central stations, and ends at the Linden train station. The Metra Train UP-N Line quickly gets you to downtown Chicago with train stations at Main Street, Davis Street, and Central Street. Evanston's public transit is also serviced by 4 Pace bus routes and six CTA bus routes.
Higher Learning Institutions and Schools in Evanston
Public, private, and charter school options
Barbereux School
Beacon Academy
Chiaravalle Montessori School
Chute Middle School
Haven Middle School
Nichols Middle School
Dawes Elementary School
Dewey Elementary School
Dr. Martin Luther King Jr, Literary & Fine Arts School
Evanston Township High School
Fusion Academy
Kingsley Elementary School
Lincoln Elementary School
Lincolnwood Elementary School
Midwest Montessori School
Nichols Middle School
Oakton Elementary School
Orrington Elementary School
Pope John XXII School
Roycemore School
St Joan of Ark Elementary School
St Athanasius School
Walker Elementary School
Washington Elementary School
Willard Elementary School
University, college, and others higher learning institution options
Northwestern University Evanston Campus
Music Institute of Chicago
Real Estate in Evanston, Illinois
Overview of the Real Estate Market
Evanston apartments for rent range from vintage to new, and all price points throughout this charming Chicago suburb are located immediately to the north of Chicago city limits. With the sprawling Northwestern University campus occupying a massive swath of land in east Evanston, many Evanston apartments are rented by faculty, staff, and students. Despite this demand, there are plenty of apartments for rent in all unit types throughout the year. Evanston always has a healthy selection of studios, one-bedroom, and two-bedroom apartments. However, there are few three- and four-bedroom apartments for rent, especially in winter.
Popular Apartment Buildings in Evanston
Local Events in Evanston, Illinois
Evanston, Illinois, hosts a variety of annual local events throughout the year. One of the most popular events is the Evanston Art & Big Fork Festival, which takes place in August. This three-day festival features over 130 artists, live music, and local food vendors. Additionally, the Evanston Farmers' Market runs from May to November and features local farmers and artisans selling their goods.

Other annual events in Evanston include the Evanston Wine Walk, held in September, and the Starlight Concert Series, featuring free outdoor concerts from June to August. Overall, Evanston's annual events offer opportunities for residents and visitors alike to enjoy the city's arts, culture, and community spirit.

Find Apartments in Nearby Neighborhoods
Apartment Buildings in Evanston
New Evanston Chicago Apartments for Rent