Tips To Make Your Apartment Listing Get the Most Leads from Tenants
Chicago's a big city full of wonderful apartments, both new and old. If landlords want to get leads from potential renters, they have to master the art of apartment listings. Not everyone's in the real estate business, so how does one make a standout listing? 
Price is paramount in successfully leasing Chicago apartments amidst a competitive market. On top of pricing advice, here are the proven strategies to help landlords make their Domu apartment listings stand out, attract interest from more renters, and get the most leads.
Photos, Photos, Photos!
Renters are highly visual and used to seeing high-quality images in online advertising. Your apartment listing is no exception!
Include high-quality images in your listing. Have someone else take them if needed. True, there's an upfront cost to produce incredible photos. But get them done once, and they're available to use the next time the unit's on the market. Excellent images are worth it.  If your apartment listing mentions a feature in the description, include a photo of it. Potential renters use photos to get a feel for the property.
Consider the lighting when taking photos. This is critical! A dimly lit apartment won't attract as many prospective renters as a nice, bright series of images.  Move around. Show different rooms from many angles if possible.
Pay attention to the order of images in your listing's slideshow:
Show living space first (living room, den, etc.)
Kitchens should be second or third in the lineup
Any amenities should follow
Exterior pics can be included, but they don't need to go at the top.
Bathrooms should be last. Tip: Remove personal items, like toothbrushes, hairdryers, etc., before taking photos of the bathrooms.
Photo Tip #1
Shoot photos on a clear, sunny day.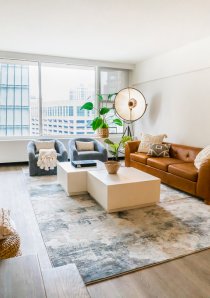 Photo Tip #2
Shoot into a corner to demonstrate depth & dimension.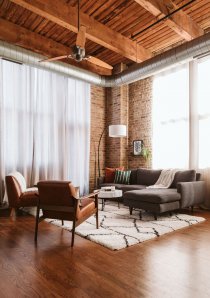 Photo Tip #3
Remove visual distractions before taking photos.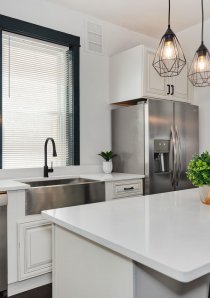 Tips for Making Your Apartment Photos Stand Out
Take pictures of the apartment midday on sunny days when natural light is strong. Renters love apartments filled with natural light.
Make sure all rooms are tidy and clean.
Try to furnish rooms. Don't have furnishings? Consider a virtual staging service that will populate the empty spaces with 3D rendered images of furniture.
Avoid taking pictures directly into a mirror or reflective glass.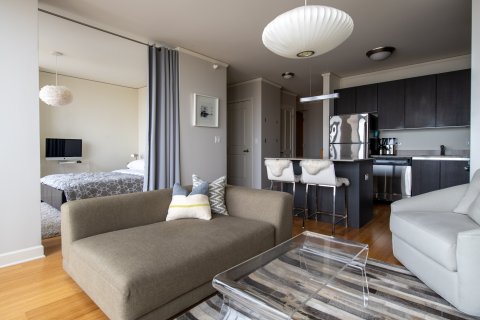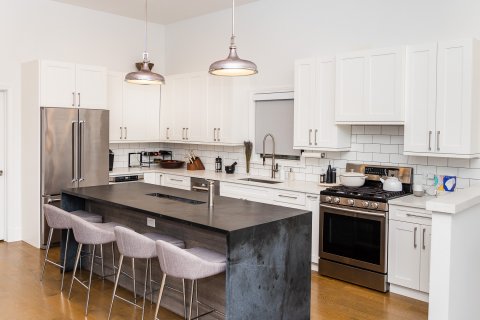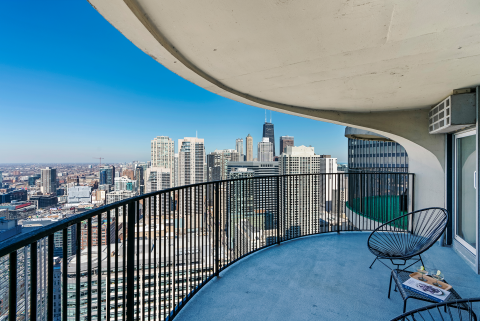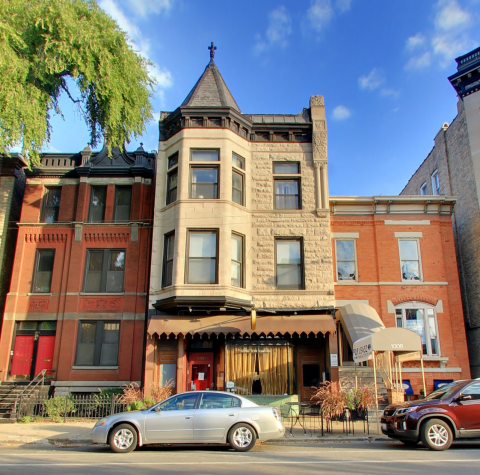 Use a Video Walkthrough to Show the Apartment
Add a video walkthrough to your listing. Domu lets landlords share videos from Youtube directly on their listings. Video adds another layer of dimension and space to the listing and allows renters to imagine what it might feel like to call the space home. Even a 30-second video tour can make the difference in convincing a prospective tenant that the apartment would be a good fit.
Additionally, Domu often shares the apartment tours on TikTok and Instagram when landlords add videos to their listing. Hello, bonus exposure and leads!
Competitive Pricing
Check nearby apartments for rent on Domu and ensure that your apartment is competitively priced. The neighborhood pages on Domu provide median price ranges for apartments for rent broken out by bedroom count. Explore similar listings in your neighborhood; landlords can revise their listing's price.
Domu also provides a seasonal update on how to price rent in Chicago on the blog. Want to add value to your apartment for rent? Find out how you can upgrade your property without a major remodel. 
Be Descriptive About Your Apartment For Rent
Thorough descriptions of the apartment for rent are vital if you want more interest in your listing on Domu. Keep these points in mind while writing your listing's description:
Paint a picture of what it would be like to live in the apartment, building, and neighborhood.
Convince a prospective renter to inquire about the apartment for rent. This is their first impression of the apartment, so make it count!
Location, location, location — don't oversell it, but don't forget to mention the perks of the apartment's location. Point to Chicago's local restaurants, grocery stores, shops, and other retailers.
Mention any nearby main shopping streets — are they within walking distance? If not, how far of a walk or drive to the nearest shopping center(s)?
Access to public transportation — mention nearby CTA train stations with the lines serviced, Metra Train stations, and the CTA bus routes operating nearby.  This is very helpful, so be specific.
Nearby schools, universities, parks, lakefront, jogging trails, etc.
Other points to highlight, if applicable:

Amenities in the apartment/condo building
Parking availability and if the area has zoned Chicago parking
Laundry — is there in-unit laundry, or are communal laundry machines in the building?
Unique Features of Your Apartment For Rent
Bring attention to differentiators. Talk up that feature! What makes this listing special?
These details are essential to renters:
Location
Outdoor space like a balcony or porch
Natural light
Large closets
Architectural details like vintage woodwork, stained glass, crown molding, floor-to-ceiling windows, high ceilings, built-ins, etc.
If you have a great view, explain it — and include photos!
A loft apartment in Chicago's Logan Square neighborhood features historic details such as stained glass windows and vaulted ceilings.
Responding to Leads For Your Apartment Listing
Fun fact: landlords and brokers who respond to interested tenants within 60 seconds convert up to 4x more leads than landlords who wait longer to reply to inquiries. Now, a minute after renters hit the "Contact Landlord" button may not always be a realistic window to send over a response. But this does matter! Take these steps into consideration when replying to leads:
Confirm your contact information is correct on your listing.
Respond to leads as quickly as possible.
Can't find time for an in-person showing? Schedule a virtual tour instead.
Extra Costs To Rent The Apartment
Clearly explain any extra costs to the renter. These might include:
Application fees
Administrative fees
Utilities
Monthly pet rents
Pet security deposits
Association fees (more typical in condo rentals)
Additional rent for a parking spot
Show Renters You Care
By renting your apartment or house out, you're entering into a landlord-tenant relationship that will endure for at least the length of one lease term. Start things off on the best note possible. Demonstrate that you are a great landlord with these simple steps:
Show renters that the property is well maintained in photos.
Show that you are accessible.
Help explain the details and offer neighborhood tips.
Security Deposit vs. Move-In Fee
Decide early if you're going to ask for a security deposit or a move-in fee. And yes, renters can sometimes balk at paying *both* for their apartment. Understand the differences as well as the pros & cons between the two. Confused about how security deposits work in Chicago apartments? Read Domu's complete guide to security deposits.
Keep in mind that a move-in fee is a one-time charge, and it's non-refundable. A move-in fee does NOT take the place of having a security deposit. But one of the immediate benefits, to landlords at least, in asking for the non-refundable move-in fee is that it goes directly into the landlord's bank account with no receipt necessary. As with most things in creating a successful apartment listing, good communication is key. Clearly spell out which charge your apartment listing asks for: the traditional security deposit or the move-in fee. 
FAQs
Be prepared for these inevitable questions from renters:
Renters may ask about payment options — do you accept mobile payments, online payments, direct deposits, etc.
Know the most convenient methods for electronic and contactless payment. (Check out our guide for online rent payments and apps.)
Are you flexible on move-in dates? 
Is the apartment pet-friendly?