Find Downtown Chicago Apartments
Renters searching apartments for rent in downtown Chicago will want to start their search here. Downtown apartments are found within several distinct neighborhoods, and it's far from a monolithic experience. Despite what some renters might be picturing about apartments in downtown Chicago, there is quite a bit of variety to the apartments for rent in downtown. There are high-rise apartments in abundance, but there are also smaller apartment buildings in the cityscape of downtown, townhouses for rent, houses for rent, luxury apartments, new apartments, and inexpensive apartments for rent.
What Can Renters Expect in Chicago Downtown Apartments?
Fans of tall buildings, bold public art, manicured streetscapes, and exciting sights will appreciate the energy that comes with renting apartments in downtown. The whimsy factor is practically off the charts for renters who picture themselves looking out the window of their downtown apartment to take in the inspiring vistas of a world-class city like Chicago.
Downtown apartments are never too far from the famous monuments that are fixtures in a highlight reel of the city: Anish Kapoor's famous Cloud Gate sculpture (dubbed "the Bean" by locals) at Millennium Park, the sturdy steel trusses of the moveable bridges that span the Chicago River, and incredible skyscrapers ranging in styles from art deco to ultra-modern. It's a treasure trove of memorable scenes, but it doesn't have to feel like a museum tour every day; there are cozy and downright peaceful corners of Chicago's downtown to be sought out as well. Renters can take a beat to walk the public promenade of the Chicago Riverwalk. Downtown apartments are near the city's most recognizable parks, namely Millennium Park and Grant Park. The lakefront is accessible as well for downtown Chicago apartment renters. And, thanks to abundant public transportation options, there's little need for a car to navigate outside of downtown Chicago. The CTA and Metra trains can whisk renters outside of downtown to destinations near or far; in fact, renters can just as quickly hop aboard a commuter train leaving from downtown's Union Station or Ogilvie Transportation Center that will take them to outer suburban towns or as far away as neighboring states like Wisconsin and Indiana. Local options abound from any CTA train lines that make their way around the Loop's elevated train circuit (and underground stations for the CTA's Red and Blue lines).
Schools in downtown Chicago include Columbia College Chicago, Roosevelt University, Northwestern University's Feinberg School of Medicine, Northwestern University's Pritzker School of Law, Northwestern University's Medill School of Journalism, and Loyola University of Chicago's Water Tower Campus and University of Chicago's Booth School of Business. The campus of the University of Illinois at Chicago isn't too far away from downtown in the neighboring University Village or Little Italy neighborhoods.
Downtown apartments in Chicago would generally be found in the Chicago Loop, Gold Coast, West Loop, River North, Fulton Market, Streeterville, Printer's Row, Lakeshore East, South Loop, and Old Town.
Popular Apartments in Downtown Chicago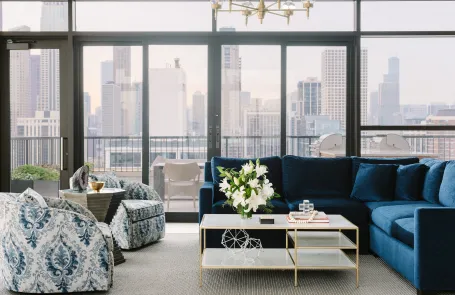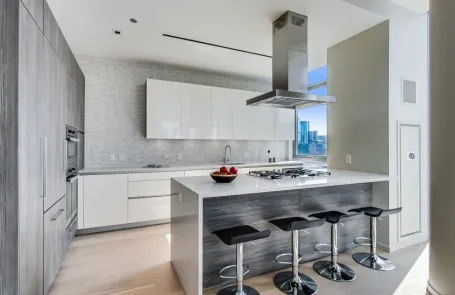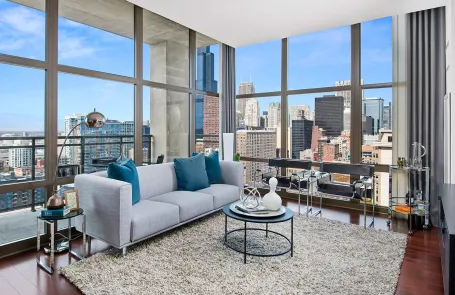 Popular Chicago Apartment Searches