Roscoe Village Apartment Living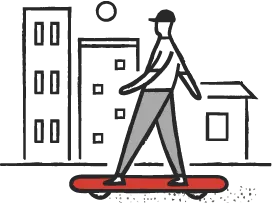 Neighborhood Vibe
The streets are quiet, the neighbors are friendly, and plenty of great apartments for rent! Roscoe Village offers residents small, well-maintained parks throughout the community. There's likely a park just around the corner from your apartment. This neighborhood is filled with family-owned restaurants and stores. Within minutes, you'll find larger stores like Costco, Trader Joe's, and Whole Foods. Residents say they rarely need to leave Roscoe Village because everything they need is there.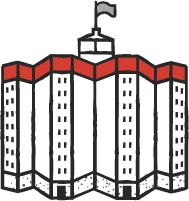 Heart of the Neighborhood
You'll find incredible restaurants and taverns in Roscoe Village, Chicago. Beat Kitchen is a well-loved tavern that also doubles as a concert venue. Four Treys Bar is a family-owned bar that has been serving the neighborhood since 1968. John's Place is the spot for homemade cooking and a leisurely meal with neighbors.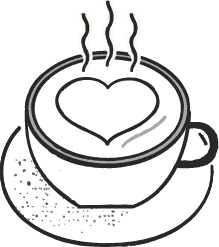 What We Love Most
This dreamy neighborhood is a renter's dream. It's quiet, you'll get to know your neighbors, there are great schools, it's clean, and the restaurants cannot be beaten!

Best Way to Get Around
Roscoe Village apartments are close to Belmont/Ashland, or renters who want to take public transit can hop on the CTA Brown to get around town. Roscoe Village has plenty of bus stops to get you where you want to go.
Find Roscoe Village Apartments
Apartments for rent in Roscoe Village
Around the Neighborhood
General
There are many choices for Roscoe Village apartments in this highly desirable neighborhood. However, most Roscoe Village apartment renters live in vintage walk-ups, two- or three-story apartment buildings, and single-family houses for rent, including post-war greystones. The train is not particularly convenient, and commuting is complex, but it's hard not to adore this place. With a bicycle, everything will work out just fine. Roscoe Village is a low-density neighborhood that blends village-like charm with a big-city take on life. Residents are active in building a strong sense of community through things like the neighborhood garage sale or annual spring brunch in this charming neighborhood—the Roscoe Village Chicago southern border hosts antique row, a strip of shops with floor-to-ceiling curios.
The neighborhood essentially straddles Roscoe Street (hence the name), lined with boutiques, sandwich shops, pizzerias, brunch spots, coffee shops, ice cream parlors, and the like. It's become a reasonably affluent community over the past five years, particularly with the emergence of a healthy crop of luxurious, single-family homes and a wide selection of apartments for rent.
Just west of Lakeview is lovely Roscoe Village. It's a clean, low-traffic, walkable, and dog-friendly neighborhood. Residents love the excellent schools in this neighborhood. It's the type of neighborhood where you stop and chat with your neighbors and know the business owners' names. It's a tight-knit community with a small-town feel with many apartments for rent and right in the heart of Chicago. It offers the amenities of the suburbs with the convenience of city living. Roscoe Village apartments are affordable and available in studios, one-bedroom, two-bedroom, three-bedroom, and even four-bedroom rentals as single-family houses. Renters looking for Roscoe Village apartments can find rentals in two- and three-flat apartment buildings, lofts, courtyard apartments, or converted single-family homes. If you are searching for a loft for rent in Roscoe Village, the Pencil Factory Lofts is the iconic loft building of this neighborhood.
The CTA Brown line train is available a few blocks east at the Paulina CTA train station. Commuting by bike is easy with the bike lane along Lincoln Avenue, which heads diagonally directly to downtown, Lakeview, Lincoln Park, Old Town, and River North. Street parking is easy in this low-density area. However, most buildings have garages for your car along the alley.
Search Roscoe Village Apartments by Size
Refine your search for Roscoe Village apartments to find your perfect apartment based on size and budget by searching studio, one bedroom, two bedroom, three bedroom, & 4 bedroom apartments for rent.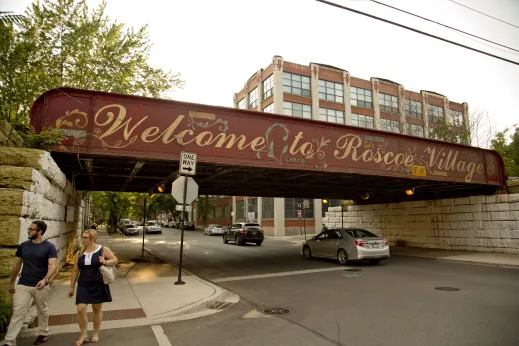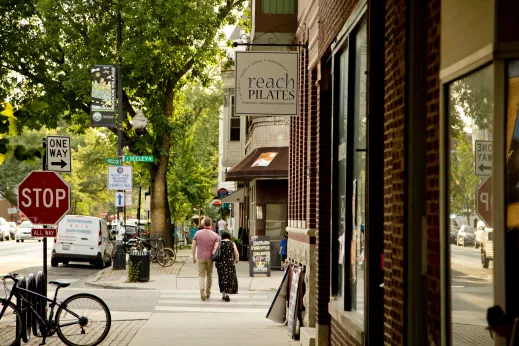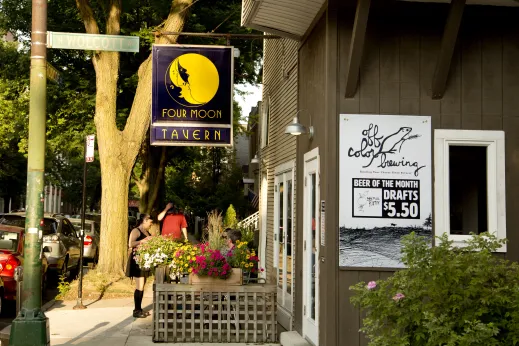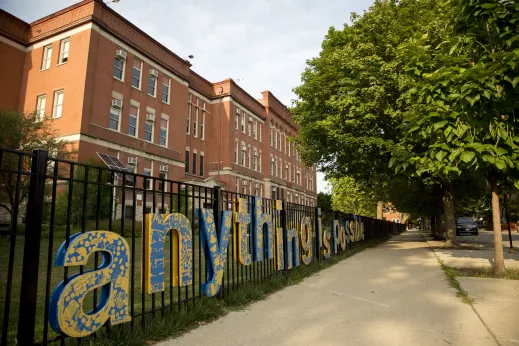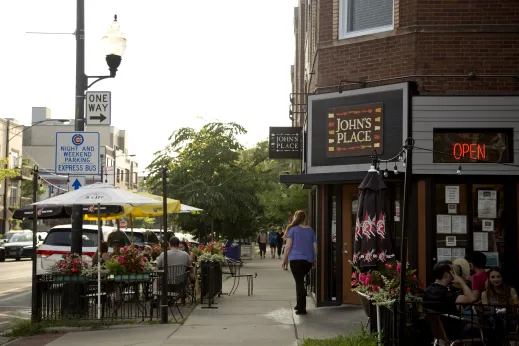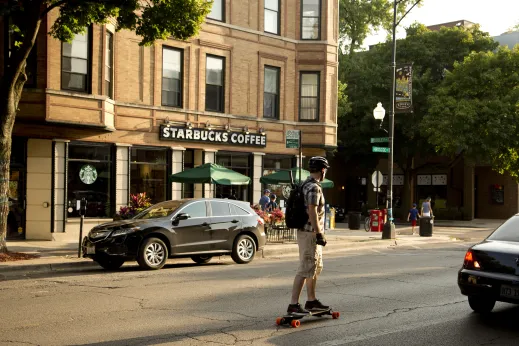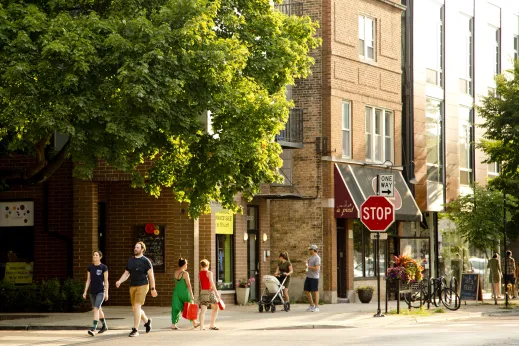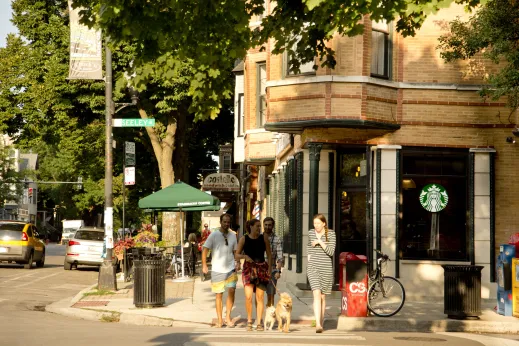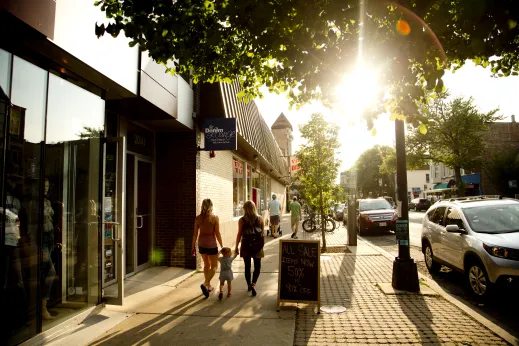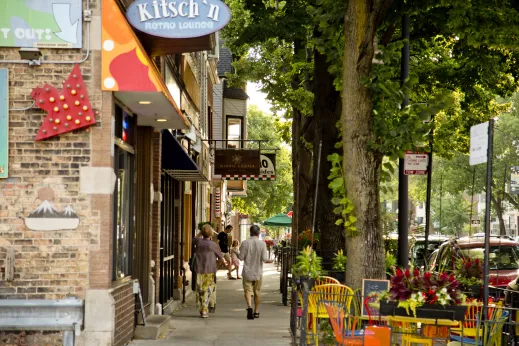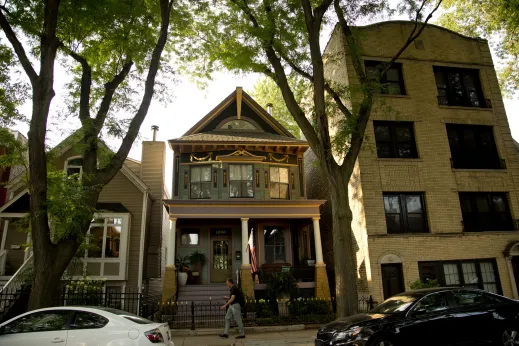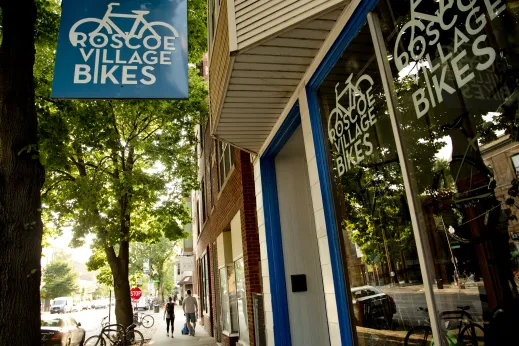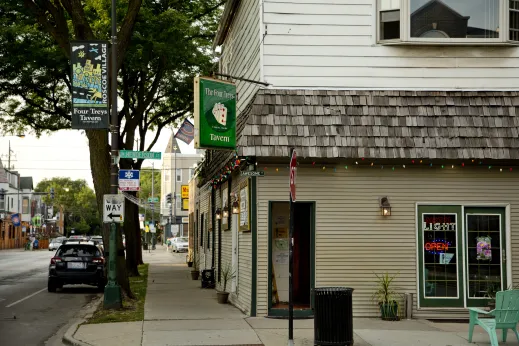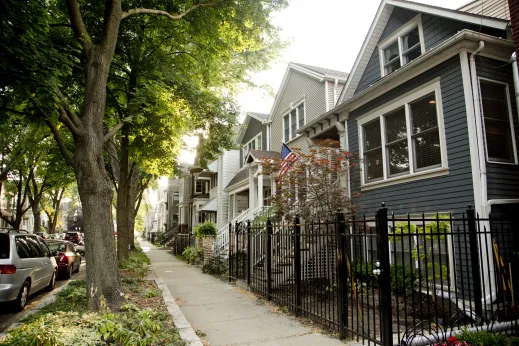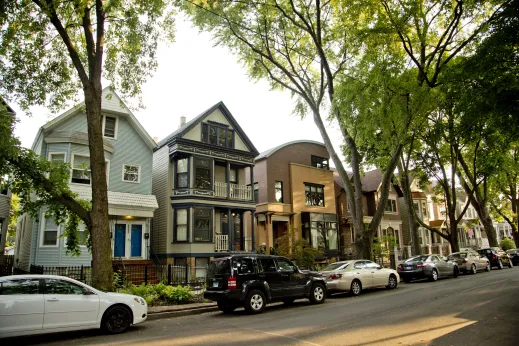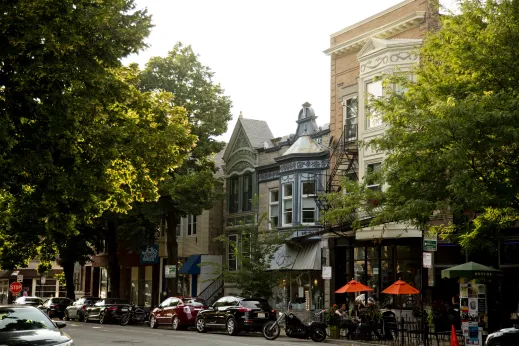 Find Apartments in Nearby Neighborhoods
Apartment Buildings in Roscoe Village
New Roscoe Village Chicago Apartments for Rent